Amber Alert GPS is a company that provides affordable and easy to use child GPS tracking systems for parents who want to keep their kids safe and secure.  Their GPS child trackers will let the parents see where their children are at all times using their mobile and online apps.  This week on GPS Bites we have managed to secure an interview with the COO of the company, Julia Howard, to ask her more about the GPS trackers plus news on the new innovations that the team at Amber Alert GPS are planning on releasing next.
1. Hi Julia, thank you for agreeing to this interview with GPS Bites.  As the COO of GPS Amber Alert what does your day to day role involve? 
Thanks so much for giving me this opportunity.  I'm always excited to speak about Amber Alert GPS and the exciting products that we are developing to make the world a safer place for kids.  My day consists of working with my team to make sure that our customers are getting the best service possible.  It's important to me that my staff is knowledgeable and able to walk a customer through an order and answer any questions they may have in regards to GPS tracking.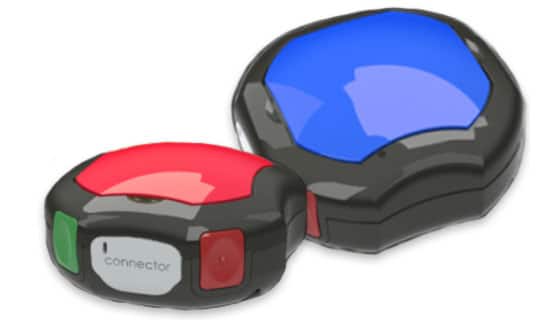 It's also important that each order goes out correctly, and that parents have the tools they need to immediately start tracking their child.  I'm also involved in daily management of the personnel, part of the product development team and work closely with our distributors as well as interact with media.
2. If any of our readers are thinking about purchasing an Amber Alert GPS device, can you tell them how it's different from other competitive GPS trackers out there and why they should consider your product versus others on the market?
The Amber Alert GPS device was created specifically with kids in mind.  It is really cool looking with interchangeable face plates which makes kids want to wear it.  It's one of the smallest on the market and it reports the child's location every 5 minutes to our parent-friendly tracking portal.  The Amber Alert GPS device has many great features like an SOS button in case the child if feeling threatened or has an emergency.  They simply press the button and can talk directly to mom or dad while the device is sending a text location to the parents.  Another great feature is called Predator Alert.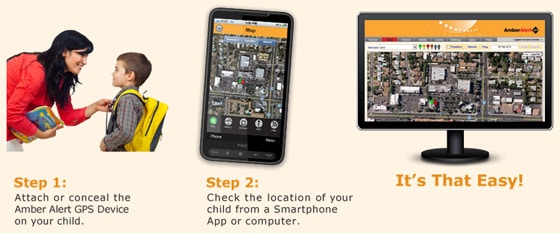 Since we are synced with the National Sex Offender Registry (which is updated every 24 hours), our device sends an Alert when the child comes within 500 feet of a registered sex offender's residence.  Our device allows the parent to create customized Zones around their home, school, or other places they frequent.  Then, when the child enters or exits these Zones, the parents receive an Alert via text message or email.  Other features include a Speed Alert and Bread crumbing.   Parents can view the location of their child from our Tracking Portal or Smartphone App.
3. We guess that you must have had a lot of positive testimonials from customers about your child tracking device using GPS– what's the most impressive story you've heard back in terms of real-life scenarios where Amber Alert GPS helped to protect and keep children safe? 
We actually just had an incident this past weekend.  A family in Texas had just been out and about shopping with their 15 year old autistic son and 2 year old grandson.  They arrived back home and began unloading their car making several trips to and from their house.  On one of their trips back out to the car, they were astounded to find their car gone.  The 15 year old had decided to take off in the car with the 2 year old grandson in the back seat.
Luckily the 15 year old had an Amber Alert GPS attached to his belt loop.  Through the use of the tracking portal and listening in to the surroundings of the device, the parents were able to contact police and recover both boys safely.  It was a scary experience, but at least it had a quick, positive outcome.
4. Are there any plans to release new versions of the Amber Alert GPS trackers and do you have any exciting developments in the pipeline that you can tell us about? 
We are working on some exciting new developments for Amber Alert GPS this year. Currently in development are companion mobile web apps that will allow you to easily track your teens and tweens. We are also working on new Amber Alert GPS device that we are looking to launch later this summer.
5. The GPS market certainly seems to be undergoing some changes with the major manufacturers having to change their business model in order to keep up.  Has this shift has any direct effect on Amber Alert GPS and how have you reacted to the proliferation of smartphones over the last few years?
At Amber Alert GPS we not only stay on the cutting edge of technology – we embrace it!  We like to figure out ways we can grow from it and enhance our customer's experience.  We feel like there will always be a need for a tracking device for young children because they are just too young to carry a cell phone.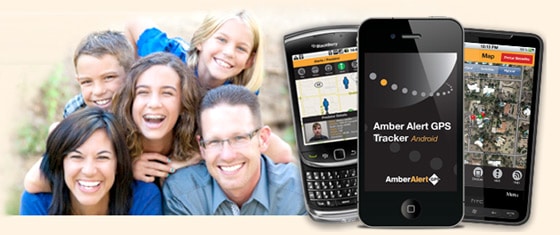 We do know that tween and teens are glued to their cell phones and that a large majority of them start off with a smartphone and that is why we are working on developing companion mobile web applications.  We've taken a very methodical approach to balance accuracy and battery life.  We want families to be able to do the activities they want and know that we've got them covered.
Want More Information?
If you are interested in child GPS tracking solutions, services, and products then we would recommend that you head over to the Amber Alert GPS website.  It contains details on all of their GPS children trackers as well as pricing information, customer testimonials, FAQs, and everything you would ever want to know about this awesome GPS gadget.
If you use the Amber Alert GPS trackers and have any stories about how the devices have worked for you then we would love to hear from you.  Please use the comments box below which is integrated into Facebook.