Old school hikers with the topography skills to read and follow maps swear by the paper and compass duo. However, with the invention of so many advanced, albeit pricey, GPS devices, it's hard to decide what to bring on the next adventure.  GPS units definitely have their advantages. The high-end devices have clear, vibrant satellite images that provide navigation for any environment whether it is in a plane, ship, car or outdoors. These devices are sturdy—most being water and dirt resistant—and are easily portable.
The biggest disadvantage to GPS devices, however, is the cost. Most worthwhile GPS units range from $200 to $800, and those fancy features become irrelevant when using TOPO software. TOPO software, like National Geographic's TOPO! Series, offers a huge number of high quality USGS maps. These maps can be customized and printed, and the information can be transferred to most big name GPS devices. With all of the mapping information you need on your desktop, splurging on a GPS doesn't seem worth it.
Print TOPO Maps and Save on Batteries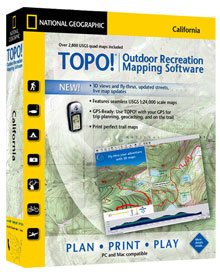 When trekking through the wilderness, the last thing you want to do is worry about dying batteries. With TOPO software programs, maps can be printed from your computer onto water and tear proof paper so you never have to worry about losing your map. The printed picture is also much larger than a GPS screen, no matter how many pixels it has.
National Geographic's TOPO! Software allows users to layer maps for a complete view of the terrain. Users can also map every foot of their next trail and get accurate time and distance estimates. For the really prepared hiker, TOPO! offers and 3-D flyover feature that gives users a chance to explore the terrain before stepping foot outside their house. (Please click here to find out more about Nat Geo TOPO Maps).
High-end GPS units can store more routs on one device, which is far more efficient than carrying around piles of maps. However, the current routes and waypoints you're using can be transferred to a simple GPS device to be used in conjunction with a topographical map. The process can be reversed as well, using checkpoints in your GPS to transfer trails to a system like TOPO!. Having all mapping information backed up on a computer means safer keeping and way more storage space than even the most expensive GPS device has.
Use GPS and TOPO Together
The consensus between most hikers is that a GPS and TOPO program can be used together to provide the safest, most comprehensive experience. However, TOPO programs can be used for most of the grunt work and at a much cheaper price. National Geographic's TOPO! State Series comes to only $50 a piece, containing thousands of USGS maps and GPS syncing capabilities. A cheaper GPS should be used as a tool to support TOPO maps, not the other way around. Even a simple GPS combined with numerous TOPO programs can be more cost efficient and much more comprehensive than the highest quality GPS.
Guest Author: Andy Johnson is an outdoor recreation major and activity planner at Us Dish.