Garmin have today announced they will be released an outdoor GPS watch, which will be a first for the company.  The Garmin Fenix is intended to be used by people who love the great outdoors including hikers, mountaineers, hunters, cyclists, and back packing adventurers.  It's quite amazing how much functionality and technology can get packed into a GPS watch of this size as it provides GPS navigation, tracking, elevation, and even weather forecasting.
Because the Garmin Fenix has GPS built-in as well as an altimeter, barometer, and compass function (also known as an ABC wristwatch), it means adventurers on the trail or scaling up mountains can do the whole things using hands-free GPS which makes a departure from Garmin's traditional handheld GPS devices such as the eTrex and Montana.
The GPS watch is expected to hit the shops over the next couple of months and will let users create navigational activities in order to plan trips, design their own routes and record various GPS waypoints.  For Garmin users who want to follow an existing trail then they can download those from the Garmin BaseCamp software where they can also be created and edited.
Check Your GPS Location with Garmin Fenix Watch
The Garmin Fenix GPS watch will let the user get accurate readings on their GPS location and the company says that it will perform extremely well, even in areas of deep foliage where coverage might be poor if using a GPS handheld unit.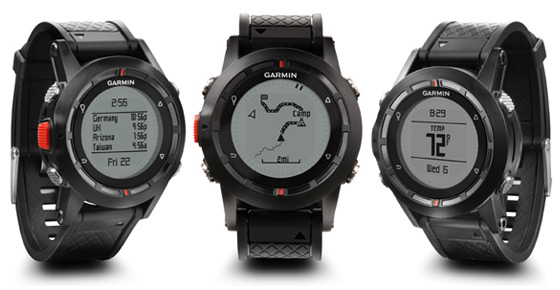 One function of the Garmin Fenix which will come in handy for intrepid adventurers will be the Tracklog feature.  As the wearer of the GPS watch moves along a trail, the Fenix watch will display a series of bread crumbs meaning it is easy to track position.  So, if the user manages to get lost or get into trouble when in unchartered territory then they can retrace their steps back using the TrackBack feature back along the bread crumbs.
Rugged Outdoor GPS Watch
The Garmin Fenix watch itself is designed to be durable and rugged.  According to a Garmin press release about the GPS watch it is built to withstand tough outdoor conditions.  The GPS watch technology is all contained within high-strength materials so that it can cope with bangs and shocks, and the lens is made from mineral glass to reduce scratches.
The LCD display is backlit with LED and the wristband is made from polyurethane.  You won't need to worry about it getting wet either because it is said to be waterproof tested up to 50 meters and the battery life should last you 50 hours when enabled into the more power hungry GPS mode – you can wear it as a functional watch without GPS turned on and the battery will last for a longer period of 6 weeks.
Watch the Garmin Fenix in Action
GPS Bites have just found this new video on Youtube which shows more details on the Fenix watch.  The Garmin Fenix video includes some top-line numbers on the features and functionality so you can get more information.
Buy Cheap Garmin Fenix Watch
You can pre-order Garmin Fenix from Amazon's online store.  Prices retail between $300 and $400 Dollars, and the watches should be available from other web stores in by Fall of 2012.  Click here to see the latest and best prices on the Garmin Fenix Review website.