This week Garmin announced their new GPS-enabled running watch: The Forerunner 10 (or FR10).  It comes in three different colors; pink, green, and black and is aimed at people who want to get into running with a GPS sports and fitness watch.  This is an entry level product that is really aimed at beginners who want to track, train, and analyze their running data.
The Garmin Forerunner 10 watch is quite good looking for a Garmin device with neon pink and greens available and is made to be shock and water resistant.  Whilst it does not come with heart rate monitor or HRM compatibility, it should still look to be a best seller and now places Garmin into the same market space as the Nike+ sports watches that were released a couple of years ago.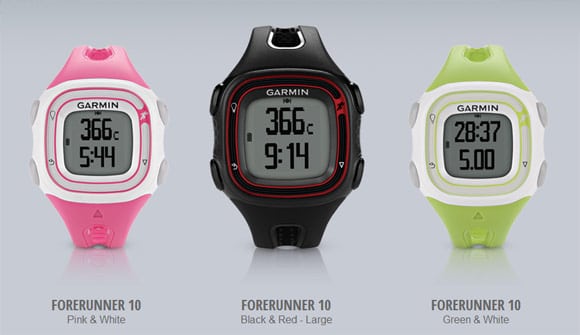 As you can see from the Garmin Forerunner 10 video ad embedded below, they are definitely looking to increase sales and coverage in the casual runner market and it's great to see a running GPS that should have a wider appeal than the more advanced Forerunners already on the market.
Garmin Forerunner FR10 Video
The watch will let the user get started very quickly, and it should prove popular due to the low price and ease of use.  You can simply take the FR10 out of the box, press start, and then get running.  Whilst on the move the Forerunner 10 GPS will tell you how fast and far you are going as well as a constant update on the calories that you are burning.
It will also tell you when you beat a personal best or record, plus comes with something called Virtual Pacer which lets you set targets which you can then try and beat.  It's kind of like racing against the clock and should prove to be a great motivational factor when getting fit with Garmin.
No HRM and Short Battery Life
Unfortunately there is no HRM optional compatibility plus the battery life seems quite short at just five hours.  However for the price of just over 100 US Dollars plus the great functionality and style offered, that's just a small draw back.
If you want to get started with a GPS-enabled sports watch then this is probably the best model on the market today.
Upload Your Data to Garmin Connect
One of the best features of this and any Garmin Forerunner is the Garmin Connect website.  After you have completed your run you can upload the run data to the free access Connect website where you can relive the activity via Google maps.  You can also view your times, elevation, pace, distance, and all the other data that the GPS has recorded.  It's then also possible to share the activity from yoru Garmin Forerunner 10 with your friends.
Garmin Connect is one of the main differentiators between the Garmin FR10 and rival watches from Nike and we would always recommend these products due to the fantastic Garmin Connect website.  You can see some screenshot below.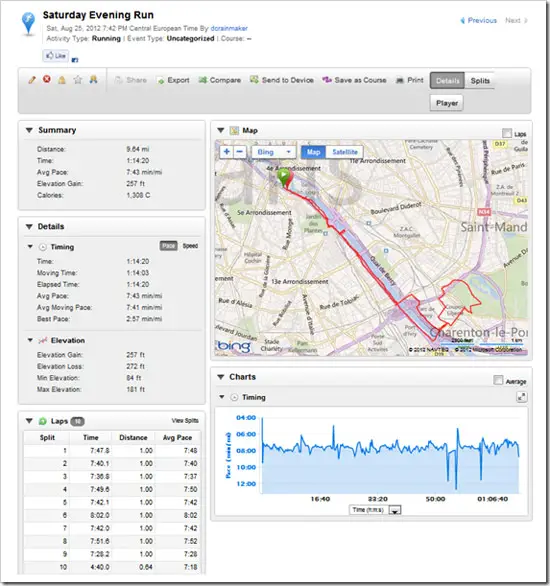 Garmin Forerunner 10 Best Price Deals
If you want to purchase one then the Garmin Forerunner 10 best price deals are  available on the Amazon website and you can see the pricing on the link to the right.
Garmin Forerunner 10 Review
Once we get our hands on the product will give this new GPS sports watch the full review treatment in our review sections.  However, until that time we've managed to track down some of the initial feedback already out on the web about this new device – click here for a Garmin Forerunner 10 Review.