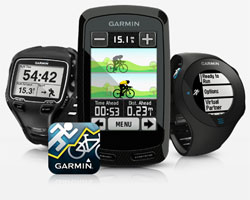 What tends to set Garmin apart from the other GPS manufacturers on the market is their sheer breadth of products and markets that they operate in.  They are not just an in-car GPS company, and have a superb range of sporting products that help you track, train, and analyze – with the Garmin Connect platform being one application that quite a few of the GPS Bites team use in tandem with their Garmin Forerunner running watches.
This week they've launched Garmin Summer Training which is a new campaign designed to raise awareness of their sport and fitness products – plus there is a superb video accompanying the campaign which you can see below.
Garmin Presents the Triathlete – Video
Click here to see the
Garmin Summer Training website
in full.  On the website there are four different sports sections including Triathlon, Running, Golf, and Cycling.  Each section comes with the obligatory sales section (after all, they want us all to buy one of their sports GPS products don't they!) – but for existing users there are downloadable training plans in a PDF format that show you how you can get fit in 2012 and get the best from your summer training.
Screenshot of the Garmin Summer Training Website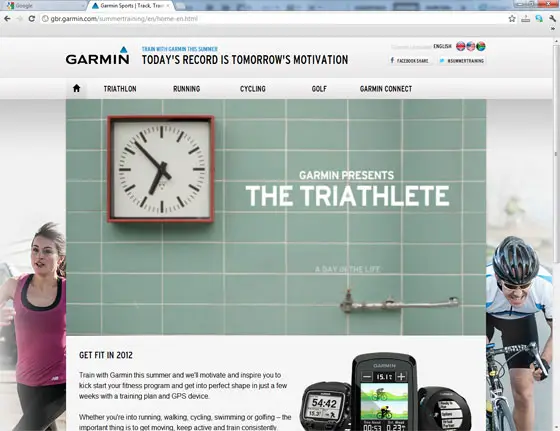 For example, if you want to start training for a triathlon then you can download triathlon training plans for a 12 week schedule including beginner and intermediate Olympic as well as more advanced work outs.  The running section has plans that are more catered towards people just starting out with fitness – whether you want to improve your fitness levels with Garmin or even starting planning for a marathon!  Each sports watch in the running section is displayed, letting you choose the best Garmin sports watch to suit you and what you want to achieve this summer.
All in all, pretty cool website, and above all the video for Summer Training.  We also managed to stumble across a Winter Training version of this campaign too which stars some of the Team Garmin Cycling Team during their training sessions – check out this video from last year which shows Christophe Le Mevel from Team Garmin attempting a punishing cycling climb in what looks like the snow-covered and ice-laden Alps.
Garmin Winter Training Video from Last Year
Forerunner 910XT Multi Sports GPS Watch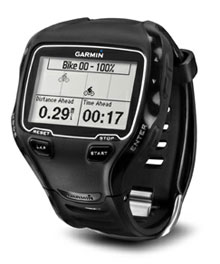 As you can see in the video above, the end game is to promote the Garmin Forerunner 910Xt multi sports fitness watch which is ideal for triathletes.  It can be used when running, or even in water.  It is also compatible with Garmin Connect which for me is one of the best assets to using the Garmin sports range.
If you don't know what Garmin Connect is then essentially it is a web platform where you can upload the data from your sporting activities, letting you measure and tracks items such as pace, distance, heart rate, calories burned – as well as planning your training too.  It's very cool – check out this article we published recently which shows how you can use Garmin Connect with an Edge cycling GPS, as essentially the mechanics are the same when using a Forerunner 910XT watch.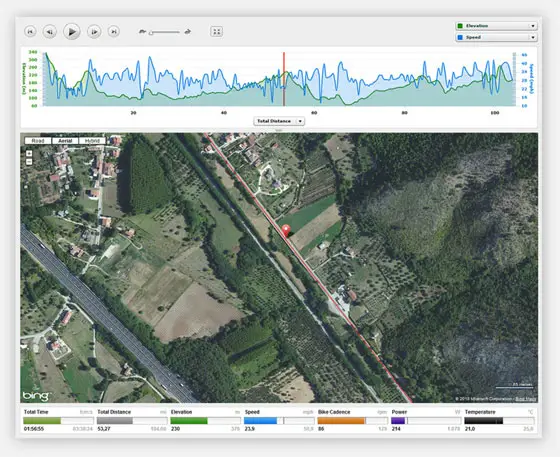 Garmin have a very wide range of sports watches designed for all different types of users.  Whether you are someone who is starting out with fitness or are at the more advanced stage, you should be able to find a GPS watch to suit you.  You can find out more and get the best prices on Forerunner 910XT using the Amazon widget below.  Make sure you check them out as with summer now here there is never a better time to get outdoors to start getting fit and in shape.
Buy Cheap Garmin Forerunner GPS Watches