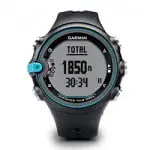 Garmin have recently announced the Garmin Swim and it is set to become one of the best swimming watches on the market.  The Garmin Swim is a swimmer's watch that lets the user track and analyze everything they do in the pool.  It's a watch that measures distance, tracks stroke type, stroke counts, pace, laps, lengths, and more… all in all a very smart piece of technology which will has put Garmin firmly on the map for swimming pool lap watches.
Best Swimming Watches from Garmin 
Looking at the official video from Garmin (watch it below), the Swim watch is easy to use and lets you measure your progress while swimming.  Garmin say that it's ready to be used straight out of the box, and if it's as simple to operate as the Forerunner range of GPS running watches then pretty much anyone could use this new watch for swimmers from Garmin.  We believe it's set to become the best swimming watch on the market.  Watch the video below and then read on for an overview of the functionality.
Design of the Garmin Swim
The lap counter watch for swimming from Garmin is set to be the slimmest and best looking swim watch on the market.  It looks cool and has easy to use buttons which are encased in high quality materials making this a waterproof swimming watch that can be worn in the out of the pool – with a batter life that lasts a year.  The design is sleek and should not offer any drag or resistance whilst swimming.
Features of the Garmin Swim Watch
Garmin are world leaders when it comes to GPS watches, but this is their first real foray into a dedicated swimmer's watch lap counter (although the Forerunner 910XT can be used in the water) with a swimming watch that is designed for people who want to track, train, and analyze their activities.  Inside the Garmin Swim watch there is an accelerometer which detects motion in the arm.

This where things get really clever, because the accelerometer can measure swimming strokes via motion in the swimmer's arm.  This lets the swimming watch record and measure stroke count, length and lap count, plus even the type and style of stroke that the swimmer is performing at that time.
When you first start using the Garmin Swim you enter in the length of the pool that you are swimming in.  This then lets the Garmin Swim watch calculate how many lengths you have completed – and you can then upload all the data afterwards to the Garmin Connect web application which is where you can really start to analyze the swimming session.  You can see a screenshot below.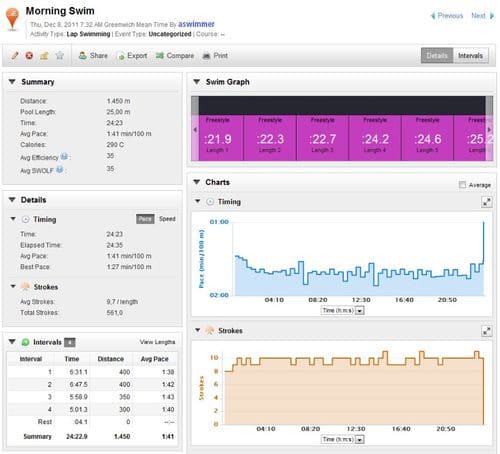 Data Recorded with the Garmin Swimming Watch
Here's a list of all the different data that is recorded onto the watch as you complete your swim:
Distance and how far you swim
Speed and pace of your swim
Length of time and duration
Stoke counts and Stoke types
Calories burned
How to Use the Garmin Swim
It's simple to operate, and should become one of the most popular watches for swimming.  Once you arrive at the pool side, strap your watch on and enter in the length of the swimming pool in either yards or meters.  Once you've entered in that data you are ready to start, so press the blue "swim" button and jump in the pool.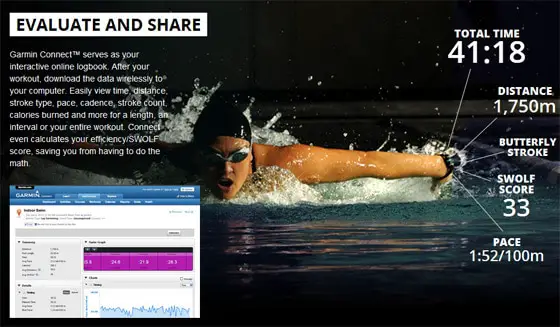 The Garmin Swim is very clever, for example, if you are doing a butterfly stroke it knows that due to the motion recorder set into the watch.  If you then switch to a front stroke again, it will know you are and record your strokes differently.  This really comes into its own later when you upload the swimming data to Garmin Connect as you can view each lap or length of the pool including the times, splits, and type of swimming you were doing at that time.
Measure Length of Swimming Pool Lap
This is a swimming watch that measures distance.  It looks so much better than the other swimming pool lap watches on the market and will probably become the watch for swimmers who want to get more from their training and work outs in the pool.  We love this swimming watch lap counter and think you will too.

Buy Garmin Swim Watch Cheap
The best online deals we have found so far for the Garmin swimming watch are on Amazon.  You can click on the Amazon links on this page to start shopping today.  Currently they are available on pre-order, although will start shipping by July 20th 2012 – so by the time you read this news article, the Garmin Swim might already be on sale.  We believe that it will become one of the best watches for swimming so get ahead of the competition and order yours online now – costs should be around $150 US Dollars.
Swimming Watch Reviews
One of the best swimming watch reviews we've seen of the Garmin Swim watch is by a guy called DC Rainmaker.  He always seems to have the best online reviews of GPS sports watches that we see online, and goes into great depth assessing every single feature with photos, screenshots, and in-depth analysis of the different functions available.  The DC Rainmaker Garmin Swim review is no different so make sure you check that out to see for yourselves.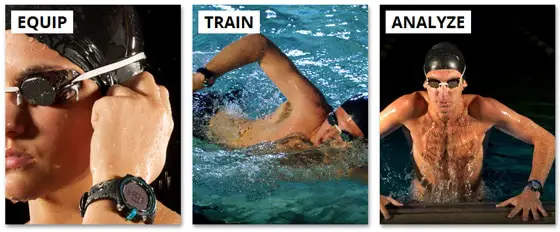 DC Rainmaker had the following to say on the Garmin Swim in his Garmin swimming watch review and we tend to agree with him – here's an overview of his thoughts:
Pros to the Garmin Swim
Garmin Swim vs Swimsense – Garmin has a better display
Garmin vs Pool-Mate Pro – Garmin Swim is easier to use
This swimming watch is great for users who don't want to spend money on the Forerunner 910XT and purely want a watch for swimming
The Garmin Swim is accurate when recording laps and lengths
It has a clear and easy to read display
It's a cheap swimming watch with prices on the $150 level
You can integrate it with Garmin Connect which is a great asset for someone wanting to get more from the data
It can be worn as a normal watch
However, he did also have a few negative points which we feel we should make you aware of too.  There are not too many though.
Cons to the Garmin Swim
You cannot add more than one customized page
There is no alert functionality for distance and time
It doesn't support long pool distances as the largest pool size available is 100 meters or yards
To conclude, this swimming watch from Garmin will probably go on to become the industry standard and leader, just as the Garmin Forerunner GPS running watches are.  If you are a serious swimmer, or just someone who wants to get fit whilst swimming and needs that extra motivation, then the Garmin Swim could be for you.