Efficiency, reliability and profitability are pillars in which successful businesses are built upon. Yet, all service providers with an operating fleet, including electrical companies, HVAC, and landscaping businesses to name a few, are susceptible to fatal flaws including opportunity for equipment and fleet theft, customer dissatisfaction and employee safety risks. To avoid succumbing to the aforementioned flaws, companies must implement GPS-enabled fleet tracking to ensure they do not leave themselves vulnerable. GPS fleet technology effectively monitors fleet, asset and driver performance and safety. Whether your business has three vehicles or three hundred, this technology plays a vital role in maximizing revenue, increasing operational efficiencies and achieving R.O.I.
Cost Prevention
A study conducted by the U.S. Environmental Protection Agency found that trucks left idling for extended periods of time waste approximately 960 million gallons of diesel fuel each year. Real-time data collection allows for the monitoring of variable costs, such as idling, associated with trucking.
A large number of companies now track their fleet so they can report on key metrics including idling time, fuel consumption, driving speeds, vehicle location and employee hours. Ultimately, efficiency and a businesses' bottom line are improved by reducing overhead costs such as fuel, maintenance, labor and insurance.
Driver, Fleet and Asset Safety
Companies with operating fleets are using GPS-enabled technology to ensure the safety of their drivers and assets. Reports from Occupational Safety and Health Administration (OSHA) show one out of every five drivers will be involved in a traffic accident this year. Enhanced functionality such as turn-by-turn directions eliminate the driver's chance of getting lost in addition to reducing the chance for accidents due in part to driver distraction. Should an emergency occur, drivers have a direct line of communication to reach the office or a dispatcher.
Given recent legislation banning cell phone use in commercial vehicles, this capability is more critical to driver safety than ever before. Utilizing the technology allows you to monitor driver's behavior and promote driver responsibility through speed alerts and efficient routing. In challenging economic times, these functionalities allow for an increase in fleet efficiency.
Productivity and Operational Excellence
Is your fleet as productive as it could be? GPS-based tracking solutions allow for transparency of fleet whereabouts, allowing for exceptional customer service and intuitive reporting including idling and fleet efficiency. A survey published by Motorola, Inc. found that nearly 50 percent of businesses using GPS fleet tracking technologies cite a $51,582 in yearly fuel savings. In addition, a recent electrical company utilizing fleet tracking saw a 35 percent increase in fleet productivity after implementation of a platform offered by NexTraq.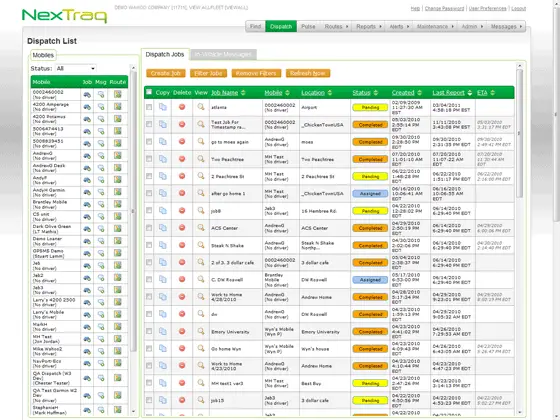 Fleet transparency enabled through GPS technology also allows for improved customer service as service representatives have the ability to view and release close vehicles to a situation in real-time. With a GPS fleet tracking solution, dispatching functionality ensures your service technicians arrive on-time or respond promptly to an emergency call. With the ability to reduce unforeseen operational costs, businesses can pass savings along to their customers. Operational excellence is no longer a possibility, but a reality.
Tracking When and Where You Need It
No matter where drivers are, business owners can track and monitor fleet activity for peace of mind. Dispatching applications integrated with Garmin® navigation devices allows for increased driver productivity. Measuring your fleet operations and finding areas of improvement becomes simple and automated. Out of the office? No problem. The data is accessible from your smartphone mobile applications.
Author Credit: Thanks to Mark Roberts, the CMO of NexTraq for supplying us with this superb insight into GPS asset tracking.