The European Soccer 2012 tournament is now in full flow and has delivered some amazing soccer (or football) matches so far.  Particularly highlights for the GPS Bites team were the England versus Sweden game and the Dutch team exiting early, despite being one of the pre-tournament favorites.  You might wonder why we are discussing sport on the site today, but there is a nice tie in to GPS because Garmin have released a new version of their mapping database this month – which includes a new points of interest pack (POIs) of all the football stadiums that are in Poland and Ukraine – the host countries for the summer European Soccer Tournament in 2012.
New Garmin Navteq Maps
The maps on all Garmin in-car portable navigation devices are supplied by Navteq and the latest Garmin map updates include coverage for every single one of the 21 cities that are hosting football matches this summer.  The new Garmin maps (nuMaps Lifetime and nuMaps Onetime) also carry additional content such as motorways, highways, and connecting roads that have been updated for the event in both Poland and the Ukraine.  (If you don't own a Garmin but instead are have in-dashboard integrated navigation then please check our map updates section to see how you can update for those devices instead – Navteq Maps Download).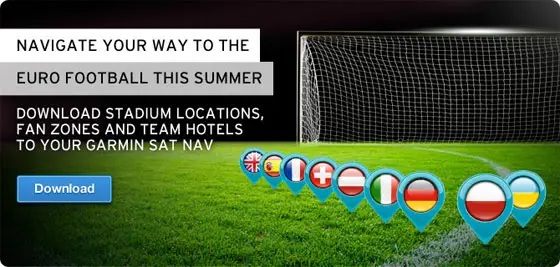 Multiple Language Support and POI Files
Names in the new mapping database software are in over 20 different languages being that most European users and drivers will be able to take advantage of the new Garmin maps for both the Nuvi automobile and Zumo motorcycle GPS range.  There are more than 150,000 POIs included that highlight gas stations, restaurants, ATMs, and hotels – so if you are driving to the tournament this year you should be as well prepared as you possibly can with your Garmin GPS.
The Navteq VP for Sales and Business Development in EMEA stated that "Garmin had big ambitions in supporting these games with a great navigation experience, particularly for visitors traveling to these cities for the first time. To fulfill Garmin's expectations,  we were able to provide truly localized, fresh content and visual guidance products to help them deliver the best possible experience in car as well as for pedestrian guidance".
You Can Get Walking Directions With Your Garmin GPS
The pedestrian guidance aspect is one to take particular note of because many new Garmin GPS devices now come with directions for when you are walking.  The latest Garmin map update has POI files detailing stadium entrances and ticket booth locations so your GPS can be the perfect accompaniment for the entire European 2012 soccer tournament.
Other New Additions to the Summer Garmin Maps
In addition to the content directly related to the Poland and Ukraine sporting events there are also some other fantastic additions to the Nuvi map update software install including:
For London over 980 km of pedestrian walkways added
Plus an additional 27 square km of NAVTEQ Discover Cities coverage
Including 55 3 dimensional Landmarks
20,000 new POI files for the 2012 London Games (45 temporary venues or public screening locations)
Buy New Garmin Maps for the Summer
If you want to buy new Garmin maps for your Nuvi GPS then please check to see if there are any new Garmin Map Update Discount Codes available so that you can save money on your final purchase price – or you can check to see if you can get free Garmin map updates on this link.