Are you interested in leading a more active lifestyle, becoming fitter and loosing weight? Well Garmin has the answer with the latest in wearable technology – the Vivofit and Vivoactive activity tracker and GPS smartwatch. These new fitness wearable technology can be worn 24/7 and tracks your daily steps, distance, calories burned and time of day.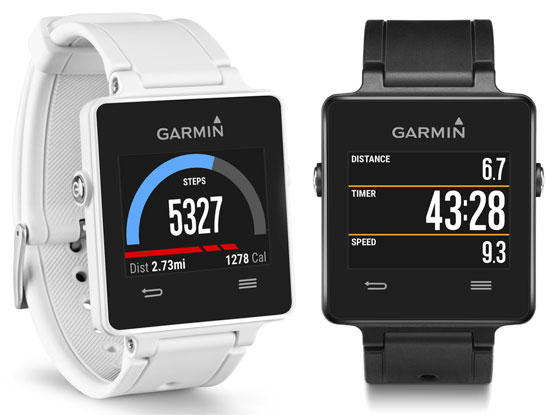 Activity trackers can help you get up, move more and improve your health. From the school run to a fun run, a dog walk to a family walk, the Garmin Vivofit and Vivoactive helps you find fitness in everything you do. 
Most people wouldn't believe just how inactive they are. Research shows that prolonged periods of inactivity like sitting, decrease your body's production of fat-burning enzymes. That effect can be reversed with frequent short walks. 
You can use your Garmin Vivo all the time, for all activities.
 The backlit screen displays a red move bar which increases the longer you are inactive for, after 1 hour the Vivofit alerts you when it's time to move and reminds you to stay active throughout the course of day. When the Vivofit is worn for a long period of time it gauges your activity level and sets a personalized daily step goal, this increases each day encouraging you to move more. 
Download Garmin Connect to your Bluetooth compatible smartphone or computer and with the touch of a button, wirelessly sync your Vivo product with Garmin Connect to see a complete picture of your progress and arrange your homepage to show data that is most important to you. 
You can also join online challenges and earn virtual badges for extra motivation. This feature allows you to connect, compete and compare with friends and family around the world. You will also be able to see your total sleep hours as well as periods of movement and restful sleep. 
The Garmin Vivoactive GPS smartwatch can track data for all of your sport and fitness activities. With a high-resolution touchscreen colour display, lightweight design and stylish look it can be worn everyday. From your desk to the track, and from the golf course to the pool, it can help you keep a healthy balance between work and life. 
Learn more about the Garmin Vivoactive sport GPS smartwatch and how Garmin can help you become fitter and improve your daily lifestyle.