Not a great week for TomTom and their mobile application development team it would seem.  Two weeks ago they launched a speed camera warning application on the iTunes store for iPhone users.  The official press release from TomTom stated that it would give drivers access to mobile and fixed speed camera alerts and they say it will improve safety by informing drivers of any approaching speed traps.  However, GPS Business News has today commented that the launch of this new app seems to have not as been as successful as TomTom might have hoped.
According to statistics published on the GPS Business News website, the new TomTom Speed Camera app initially launched with high sales numbers and downloads but quickly went into free fall, with users ranking it only 1.5 out of 5 stars on the iTunes website (particularly on the UK, German, and Italian language versions).  See below for a graphical representation of how the sales and rankings dropped off with the app once launched on the German iTunes Store.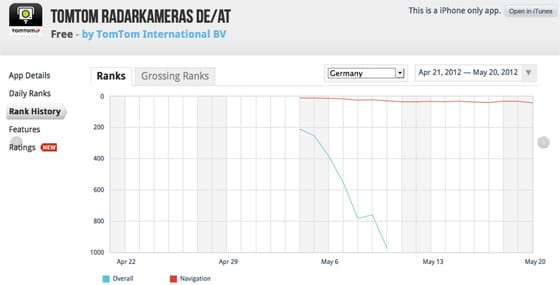 In addition to this, there have been numerous poor TomTom Speed Camera App reviews posted online plus complaints posted onto the iTunes store itself.  Sample comments taken from users include feedback such as:
"Two major flaws make this app unusable. Pretty much useless, all in all. It's a shame: the design is really nice and the alerts sounds are great: obvious without being annoying. But without a decent database and background running, this is basically just a toy."
"Don't bother.  The speed camera information supplied by TomTom has always been shockingly bad. When I saw this app. I thought (stupidly as it turns out) that maybe TomTom had sorted themselves out."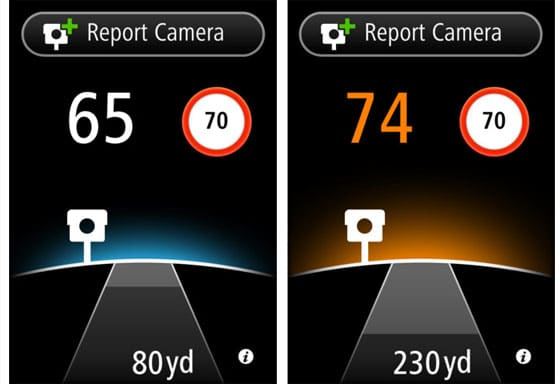 Overall, the general feedback and complaints center around the fact that TomTom's speed camera app lacks the quality and accuracy you would expect from a major GPS manufacturer.  GPS Business News thinks that a lot of the failings are due to TomTom's over reliance on using their customers to report speed camera locations using the app.  If the customers are not doing that regularly or accurately, then the app really is quite useless.
There are also technical flaws apparent with the application.  For a start, it is unable to run in the background so if you switch to another application on the iPhone you will lose speed camera warnings.  Not ideal if you use your smartphone whilst on the move for music or hands-free phone calls!
It looks like TomTom might need to go back to the drawing board with this one.  One suggestion could be to open the app up for free for a few months in order let customers report cameras and iron out any bugs.  As it stands, offering this service, even at it's low monthly cost rate seems like an error of judgment.  Let's hope TomTom sort this out and soon release a new version that works better.
If you would like more information then we would recommend checking out the original article on the GPS Business News website.  You can subscribe to their email alerts on the website to be kept abreast of all the latest GPS news.