This week TomTom posted an article on their website which is being viewed as a thinly veiled attack on OpenStreetMap, a website that offers open source mapping as a community mapping project.  In their TomTom news article the company states that open source map alternatives to their own products are not as reliable as paid for mapping, have less coverage, and are even open to attack from unscrupulous contributors (and they cite the case of Google contractors messing with Google Maps).  One of the more stand out comments from the TomTom article is where they believe that Open Source Maps can be dangerous for drivers, in particular when it comes to items such as one-way streets.
"Many drivers rely heavily on satellite navigation for precise directions, and mapping errors can be extremely dangerous, particularly in the case of one-way streets."
Online Community Supports Open Source Mapping
This TomTom statement does seem to have created a bit of a backlash in the online community with some bloggers defending Open Source Mapping and stating the case for freedom of development and also what they believe to be flaws in TomTom's argument.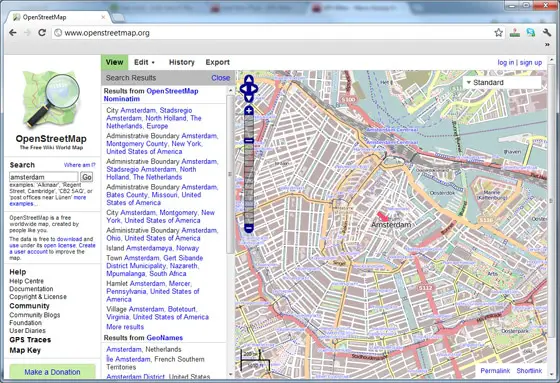 At GPS Bites our opinion is that of course products like OpenStreetMap will have errors in it, but then so does a TomTom map because GPS maps are never going to be truly up to date.  For example, Navteq released a statement not too long ago stating that the US road network had nearly 20,000 new miles added to it in 2011 alone – and that's happening on a daily basis.
Map Share – TomTom's User Contributed Map Solution
It is worth noting that TomTom offer something called Map Share which lets their users upload map changes, which can then be downloaded by other users – even if the map changes are not verified by TomTom themselves.  In our minds, surely that goes against their argument against Open Source Mapping – certainly one for debate if you would like to start the conversation using our Facebook comments boxes below.

Read Both Sides of the Argument
Of course, you should weigh up both sides of the argument.  There is a brilliant post on the Système D blog called TomTom: from PND to FUD which is worth reading, plus of course the original statement from TomTom.
A brief excerpt from the Système D blog post reads:
"You can tell you've got your competitors rattled when they start producing knocking copy about you. It's a testament to the success of OpenStreetMap that TomTom, the troubled, declining manufacturer of satnavs (PNDs) and geodata vendor, has published a rather cynical example of FUD (Fear, Uncertainty, and Doubt) about "open-source maps".
So as you can see, it's certainly provoking some fierce debate and looks like it is set to run and run.  Make sure that you bookmark our website or join our Facebook pages to be keep abreast of any developments in the future.
Happier News: TomTom Users Would Rather Listen to Homer Simpson
In other TomTom news, and something a little less controversial, they have just released a study stating that whilst over 80% of their customers believe that they would recognize the Queen of England's voice, they would rather instead install the TomTom Homer Simpson voice pack onto their GPS device.  For more information on TomTom Voices please visit: www.tomtom.com/en_us/products/voices