Please read on for an overview of the different types of GPS sports watches available on the market as well as advice on which models are best for running, cycling or swimming.  Article comes courtesy of the team at the Run the Line blog and includes details on the Garmin and Polar range of GPS sports watches that you can buy to help you train, track, and race in 2012.
With ever passing month there seems to be a new sports watch released for general sale. Each manufacturer claims to have the best model, claiming either the best battery life, greatest functionality or the most amounts of statistics recorded and as a result is can be difficult to work out which watch is the most applicable for your chosen sport or training.
Sports watches can be broken down into three main types. Firstly, you have watches that can be combined with Heart Rate monitors to record a variety of live statistics about your heart rate whilst you train. Secondly you have watches that can be combined with either foot pods of GPS sensors to record accurate pace, distance and speed statistics, and finally you have watches that can be combined with cycle sensors to measure things like power output, cadence and speed whilst you are in the saddle (multi sport watches)
In terms of each category, there is one clear winner for each when you look at functionality and I am going to list there below. It may be that these watches actually provide too much functionality and you would be must better opting for a cheaper model, but at least you will be aware of what options are available
Best Heart Rate Watch – Polar RCX2
The latest in the range of Heart Rate watches is the Polar RCX3. This is a model that can not only be connected up to an optional GPS and cycle sensor (optional extra as opposed to build in) but it also includes a few top of the range and never before seen heart rate features that make this a truly best in class model.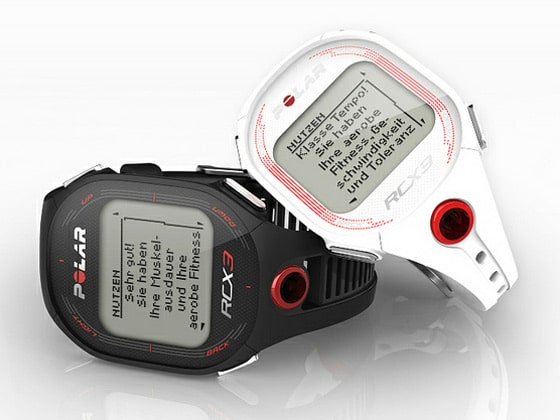 A feature called ZoneOptimiser identifies how fatigued you are in the first few minutes or your running, cycling or training and alters your training targets accordingly. This is great as it reduces your risk of overtraining and is a reactive watch that works with you not against you.
A feature called Training Load is another top feature that only makes an appearance on the Polar RXC3 watch. This metrics calculates how long you need to recover from not only each training session but also your entire cumulative training. This way you can track how you recovery time is mounting up if you workout on back to back days and can therefore plan adequate recovery time accordingly.
Best GPS Watch – Garmin Forerunner 610
If you are looking for a GPS watch that can record a huge amount f statistics then the Garmin Forerunner 610 is the watch to go for. It can keep track of over 50 love training metrics about your run or cycle and can also be pared up to a heart rate monitor and cycle speed sensor as an optional extra.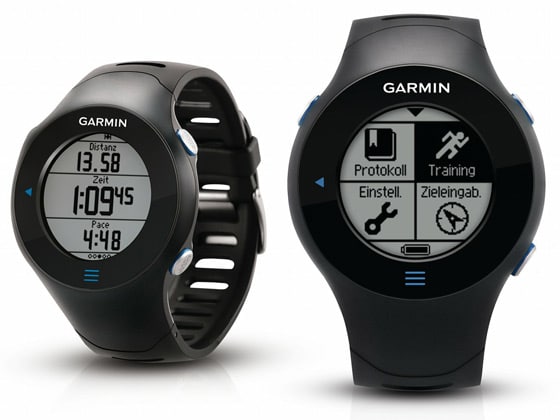 The Forerunner 610 is a touch screen operated and features a number of very useful training features such as the ability to plan interval workouts and advanced courses as well as the ability to race against a past run or cycle, a friends run or cycle, or ever a map that you have downloaded of the powerful Garmin Connect Online training portal (where you store all of your training data)
Best Multi-Sport Watch – Garmin Forerunner 910XT
There are a few things that set a multi sport watch apart from the rest of the running watch market. Firstly (and most importantly) it needs to be waterproof. Secondly, it needs to be able to switch easily between running, cycling, swimming and multi sport mode, and lastly is needs to be able to have a large battery life, even when paired up with a multitude of optional cycle and heart rate sensors.
The Garmin Forerunner 910xt is such as watch. It has ever feature from every other Garmin GPS model but with some important additions that set it apart.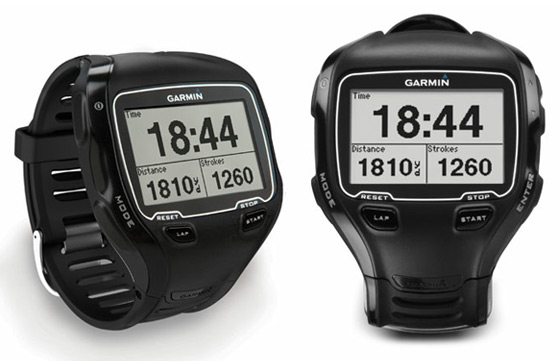 It has an impressive 18 hour battery life, which makes it ideal for long distance endurance sports. It also is not only fully water proof but also has features never before seen on a multi sport unit that let you automatically record how far you have swum in either open water or pool based activities.
You can also pair the 910xt up to a most mainstream cycle sensors and heart rate monitors to access a wide range of statistics, numbering over 60 in total and for serious cyclists you can even record live power meter data.
So there you have it, three top sports watches – one from each category along with their top selling points. For full reviews of any of these models, see the Polar Rcx3 Review over at runtheline.com or check out the manufacturers websites for mode detailed specs. Each heart rate, multi-sport or GPS watch has an impressive amount of functionality so please investigate each in detail to ensure that you purchase the correct unit for your sport and type of training.
With Thanks To: 
This article was written by Ross from RunTheLine.com. Ross is a keen blogger and triathlete based in London.