The new iOS 6 firmware released by Apple this September no longer carries the Google Maps. The Cupertino-based company has decided to replace the popular program with its own Maps service. Apple maps for iOS 6 and iPhone 5 has been launched for less than a week and a lot of customers didn't like it already.
Some iOS device users haven't noticed the difference yet since the new program has similar interface and icon. Still once you launch this application and use it for a couple of times you will notice a lot of differences with Google Maps. There is no doubt that you will see a big difference between Apple Maps and Google Maps app after you launch it.
We will cover advantages and disadvantages of Apple Maps for iOS6 in our app review. You can test the service on your own and see how much you like it.
Advantages of Apple Maps
One of the nicest features of the new application is its "flyover" 3D maps. You can get an overhead view of cities and these 3D satellite maps are just amazing. It feels as if you were flying in an airplane and looking over the city. Besides, thanks to Siri you can get turn-by-turn directions which are pretty reliable and fun to use.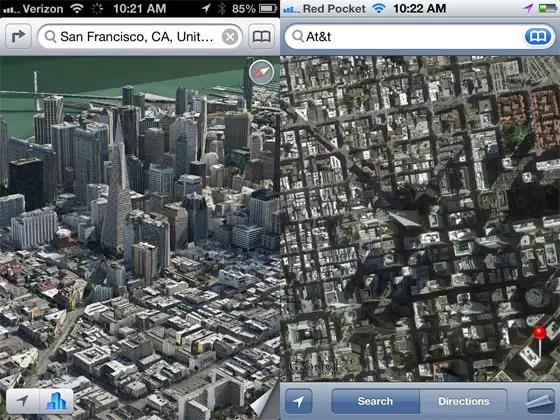 You can re-orient your maps and go through reviews for places you might like to visit one day.
Disadvantages of Apple Maps
One of the worst features of this program is its weak content. If you wish to search Maps you will most likely be disappointed by the results. What you might also not like is the fact that the option to transit information is unavailable.
The app doesn't have Google's database and this is the main reason why most users didn't like it so far. Apple has chosen Yelp as a source for its Maps' locations. This information is not as reliable as Google's.
If you are a fan of mass transits in Google Maps, you will miss this feature in Apple's app. iOS 6 Maps show you only a list of transit applications that you have to get on the App Store. It is not comfortable to check the area if you have to go to the third-party programs for the directions. Do you agree with me? Sadly you cannot see both at the same time.
Your Choice
For now it is hard to predict whether Apple Maps for iOS 6 can be a failure or a big success. The company surely knows what is missing from its program. While there is no Google Maps application on the App Store you can still use the browser to get mapping information you need.