Motorcycle GPS units have come a long way from simply providing navigation. Many of them now offer entertainment options, free mobile usage, and even updates on traffic systems. Since motorbike GPS systems aren't cheap, it is important to buy the right one to suit your needs.
Why Not Use a Car GPS?
Motorcycle GPS devices need to be a lot stronger because they are knocked around a lot while driving. This is especially true for riding off-road, where a traditional car GPS would break in a matter of hours. It also needs to be fairly small so it can fit on the dashboard of the motorbike without hindering the rider.
Listed below are four of my favorite GPS devices for motorcycles:
Garmin Zumo 660 – Best Price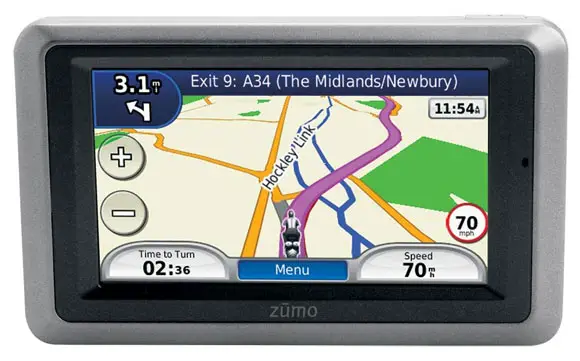 The Garmin Zumo certainly isn't cheap, but you'll definitely get a bang for your buck. Its big screen is very large for a motorbike GPS and makes it ideal for bikers who wear gloves. It comes with a strong RAM mounting kit, making installation a breeze.  Being a Garmin GPS device you are almost guaranteed that this model will be one of the best on the market as they are the World leader in GPS technology.
One of my favorite features about the Zumo is its 3D and 2D graphics options. It also has virtually no lag, which is essential when coming up on a junction. The loudspeaker is strong enough to use even when you are on the highway, so you won't always need to wear a headset.
The Zumo looks trendy, but don't let that fool you. If you take this bike into the outdoors it is strong enough to last through the vibrations of even the rockiest terrains. It even has map routes for larger dirt road areas.
Magellan Explorist 610 – Best Price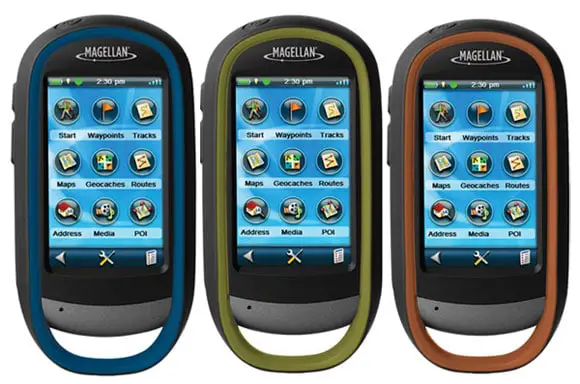 The Explorist 610 is a complex navigator that can be used on motorbikes, off-road cars, walkers, and even kayakers. Off-road bikers prefer the Magellan because of its extensive mapping system. However, this can also benefit you if you are living in the city. SD card upgrades are also available to provide new maps for specific areas.
Unfortunately, the touchscreen on this GPS isn't the easiest to use if you are wearing big gloves. However, there are two hard buttons underneath the screen that will get the job done. The 610 is also easy to install, just plug it into the cigarette lighter and away you go!
The Magellan Explorist 610 is not specifically designed for use on motorcycles (unlike the Garmin Zumo 660), however, it can be used with the correct mounts.  Don't expect it to do a great job, but it will get you from A to B sufficiently and is waterproof.
Tom Tom Rider Pro – Best Price
The Tom Tom Rider Pro is waterproof, so you won't need to worry about wrecking your GPS if it starts to rain in the middle of your trip. It can be connected to your smartphone, giving you hands-free control while driving. Daylight screen viewing is great and the battery lasts fairly long considering how bright the screen is.
The Rider Pro is easy to use, but it has several hidden features that can significantly improve your driving experience. For example, maps can be viewed by Google earth, allowing you to create a map once you choose a particular spot. Overall, the Rider Pro is very user friendly and well worth the price.
TomTom, whilst they don't have the World-wide number 1 GPS spot like Garmin do, they are still hugely popular in Europe and are a very well respected brand who develop superb GPS navigation devices.
Strike Genius Motorcycle GPS – Best Price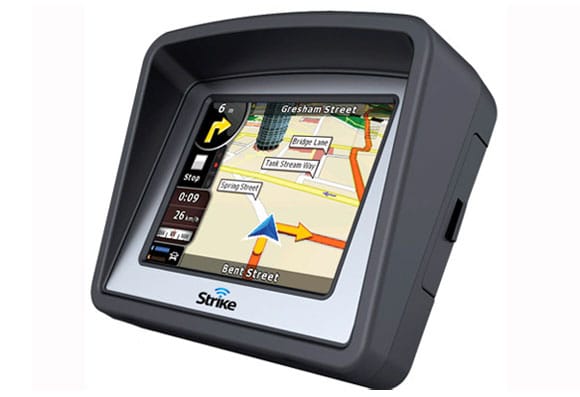 Strike Genius is made in Australia and specifically designed to handle the rigors of the Australian outdoors. It can support a variety of maps and has all the common features you'd expect to find in a GPS such as avoidance of tolled roads, fastest route, and shortest route.
The display is quite large and easy to look at while driving. The screen is also bright enough to be discernable when the sun is still shining, although that only allows the battery to last for four hours. For communications, the Strike Genius comes with an FM headset and pair of earphones.
For more information on motorcycles, visit my blog at Motorbike Maniac.
SaveSave