Garmin announced this month that they had reached a rather spectacular milestone this month with the sale of their 100th millionth product.  This is an amazing achievement when you consider that the company was only founded in 1989, with the first product being sold in 1991.
The Garmin president and COO stated that
"This is a tremendous milestone for Garmin.  In just 23 years, we've gone from a startup company into one that is a global consumer brand – and one that continues to extend its reach by creating new markets and product categories that focus on location technology"
At GPS Bites we have a lot of respect for Garmin, they truly are World Leaders in the field so we would like to extend our congratulations to them on this amazing news.  Over the last couple of years they have raised their game and some of the new design and innovation coming out of their labs looks stunning.
However, as with any company they will need to keep innovating – there was recent study on the lifespan of a company released by Bloomberg Business week that concluded that average life expectancy of a multinational corporation-Fortune 500 or its equivalent-is between 40 and 50 years.  We hope that in a few years time we will be celebrating their 200 millionth product – GPS certainly seems here to stay and as long as Garmin keep coming up with great new ideas there is no reason why they won't be around for decades to come.
If you would like to view the official Garmin press release then please visit their official website on: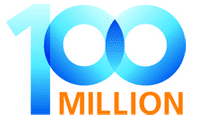 According to the press release the 100 million milestone will be celebrated with a commemorative logo on their packaging.  You can see the logo on this page which will also be used on Garmin websites.  Whilst this is pretty cool news, it's a shame that Garmin are not doing more to celebrate this achievement.  Considering all the markets that they operate in and the adventures that you can have with their devices, I would have hoped for something a lot more spectacular.
Perhaps they do have something up their sleeve; if we hear anything we will update you so please make sure to bookmark the GPS Bites website.
GPS Bites "Question of the Week"
Which brings me onto our question of the week: What ideas would you have come up with to celebrate Garmin's 100th Millionth Product?  Email in your answers and we will post news up soon on what the best ideas are and share them with the rest of our readers.