I've been using a Garmin Forerunner 110 now for over six months so thought it was high time I published my own Garmin 110 Forerunner review so that I can share my views on this excellent GPS sports and running watch.  It has been helping me to get fit and lose weight very effectively – and when combined with the Garmin Connect free online service you can really see its value.  Read on below for my un-biased Garmin 110 review, plus at the end of the review I will list out some options for you in order to get the cheapest Garmin Forerunner 110 best price on the Internet.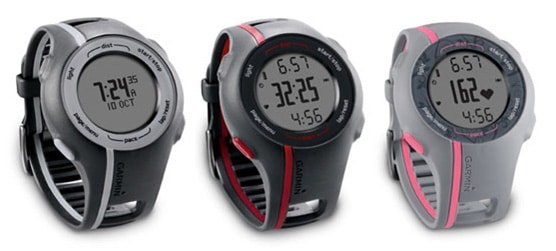 Garmin 110 Forerunner Review – GPS Sports Watch for Runners
As you can see from the image above there are three different versions of the 110.  The grey and black unisex model, the black and red men's Forerunner 110, and finally the grey and pink women's Forerunner model.
The Forerunner 110 looks like one of the easiest and simplest GSP sports watches on the market in terms of usability – and it certainly lives up to its look.  It's GPS-enabled so this means your Garmin 110 will know exactly how far, fast, and high you have run.  A lot of people who are training for 5k runs and marathons use them, but it equally is good for a recreational runner like me who just wants to get fit.
The Garmin Forerunner 110 uses GPS technology to record the distance, time and pace of your run – and each individual run is stored on the Forerunner meaning you can quickly access it to check out how you did.  Even better than that though is the Garmin Connect web portal which lets you examine detailed analytics and statistics on each run you do – and that's the bit I love most about it.
Getting Started with the Garmin Forerunner 110 GPS Watch
I took my Forerunner 110 out of the box, strapped it on my wrist, and started using it immediately with no need for any complex technical set-up.  I would say that anyone can use this GPS running watch – I didn't even read the instructions for the first couple of weeks I was using until I wanted to dive deeper into the functionality.
As I said, it's very simple to use which is why I think if you are a beginner to running like I am that this will suit you.  Once you are ready for your run with the Forerunner 110 and have it strapped to your wrist you will need to press the Page/Menu button on the bottom left of the watch face.  This will then start the process of trying to find a GPS satellite signal.  The screen will give you an indication on progress with a black bar that creeps up to 100% and states "Locating Satellites".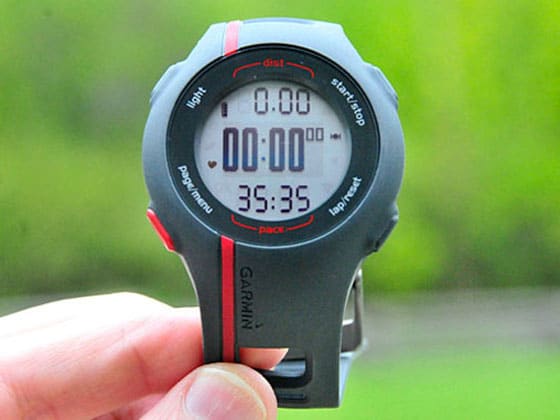 Once the satellites are found you are ready to start running – and you can commence your Forerunner 110 run work out by pressing the Start/Stop button that appears on the top right hand side of the watch face.  This will immediately start the timer off so make sure you start running!
Running with the Forerunner 110 Sports GPS Watch
Once you're off and jogging you will notice that the default Forerunner 110 screen will show you how far you have run in kilometres and metres, the time it's taken you so far, plus an estimated time completion on your split or lap.  My splits are always set to be one kilometre which means as I run I can see if I am on schedule to do it in a time that I want to.  Obviously if I can see that I am lagging behind my target I can step up the pace – and as your pace quickens you will see that the split time target will start to reduce.
Video of How to Run and Jog Using Forerunner 110
Each time a split is completed you will hear a beep sound.  This is good for me because on some difficult runs I hate to keep looking at the display.  This is because I will think I've actually run nearly 1 kilometre and then when I look at the cold hard data on the display I realise I've only done 600 metres – so I tend to get my head down, start running, and only look at the watch face on the Forerunner 110 once I hear the split notification.
Using a Heart Rate Monitor with the Garmin 110 Forerunner
If you want to access even more advanced running data on the Forerunner 110 then it's worth investing in a heart rate monitor.  You might need to purchase this accessory separately, although some retailers do sell a Forerunner 110 bundle including the HRM and strap.  I've listed all the different purchase options and accessories at the end of this review in an Amazon widget for you to check out.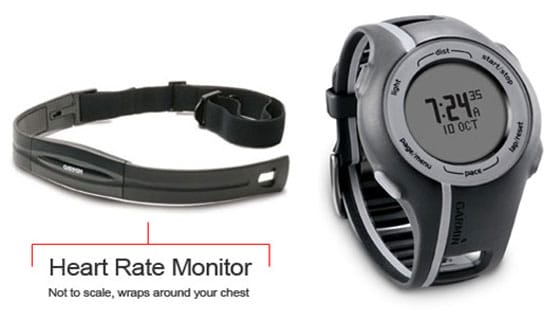 By using a Heart Rate Monitor with the Garmin Forerunner 110 you can accurately track your calories burned, rather than the estimations that Forerunner uses without one.  You can then track your heart rate in beats per minute.
The Garmin YouTube Channel has published a video tutorial on how to use the Forerunner 110 with HRM in order to get the best results which I have embedded below to give you more information.
Garmin Forerunner 110 and Heart Rate Monitor Video
Delays in Locating Satellites with Garmin Forerunner 110
There's not really anything negative I can say about the Garmin 110 apart from one thing.  The most frustrating part of using the Forerunner 110 sports watch can be the delays in locating satellites.  It only happens occasionally, but from time to time I will have all my running gear on and get outside the house, strap the Garmin 110 to my wrist, click the start button and be ready to go – only to find that I can be waiting a couple of minutes for the watch to find a GPS signal.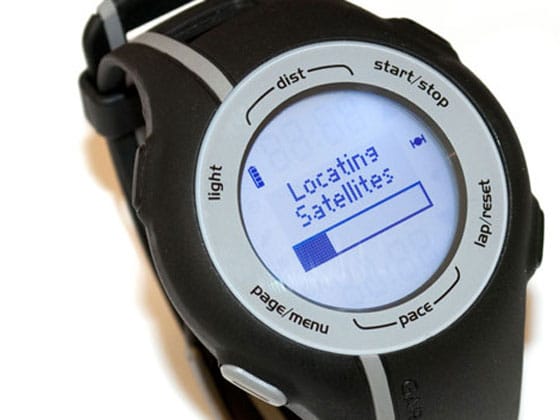 Typically though it usually tends to find a signal in under thirty seconds, and I have found the times when it takes longer to do so is when the watch has been idle for a couple of weeks if I've not been using it.
The Forerunner 110 Battery Life
This is excellent, and the battery life is preserved because when you leave your Forerunner idle for around 5 minutes or so it will switch into Power Save mode.  Garmin state that the battery life of the 110 GPS watch is three weeks in Power Save mode, or around 8 hours when the GPS signal is activated – in other words when you are using it to train and run.
In my experience these estimates on battery life are pretty spot on – because if I've had a week's break from running and then put my Forerunner 110 back on there always seems to be enough battery power left to locate the satellites and start using it again.
Charging the Forerunner 110 Watch Battery Power
Charging the Forerunner 110 is very easy and there are two options.  I mainly charge it up via the included USB cable into my PC.  All you do is clip the USB charger over the Garmin 110 watch face and then connect to a USB port on your PC – it will then charge up – and will take around an hour to become fully charged.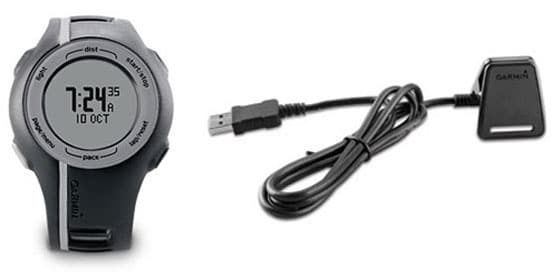 Alternatively the Forerunner 110 also comes with a main adapter for charging which is really simple as the charger has a USB connecter on it – meaning you just use the one cable for all your power charging needs.
Using Forerunner 110 with Garmin Connect
Garmin Connect is the free online service that lets you track and record your runs and the best thing is that it's completely free to join.  In my view Garmin Connect is as valuable a tool as the actual Garmin Forerunner 110 sports watch as it gives you a completely new insight into how you are performing and the progress that you are making with your running and jogging.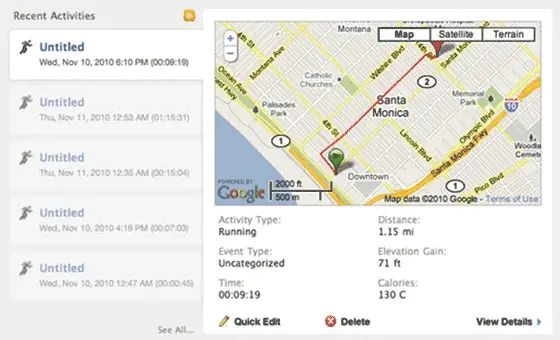 It's so simple to use as all you do is get back from your run, plug the Forerunner into your PC and Mac, and then upload the running data to Connect.  Once the data is uploaded you can analyse the run and even replay it on a virtual map.  Data available includes items like calories burned, speed, distance, where you ran, split times, and so much more – including a very neat function where you can set yourself goals.

I usually set myself mileage targets for the week, and admittedly a lot of the time I never achieve them but it's still great fun trying – and also logging back into Garmin Connect to see your progress bars.
You can view an official Garmin video below from their excellent YouTube channel which shows you in detail how to use the Garmin 110 Forerunner in conjunction with the Garmin Connect website.  Please note that in this video the demonstrator is using the female pink women's version of the Forerunner 110.  Do watch this video thought as I reckon it will convince you 100% that you want to buy this GPS sports watch from Garmin – this was the unique selling point when it came to me buying mine.
Forerunner 110 and Garmin Connect Video
Who Will the Garmin 110 Best Suit?
I am by no means an accomplished runner or jogger – but I am using the Garmin Forerunner 110 watch to help me get nearer to that goal.  In terms of to whom this GPS sports watch best suits I would personally say that if you are new to running, want to get fit, and love to set yourself fitness goals and targets then the Garmin 110 really could be for you.
It looks cool, just like a funky digital watch and has some great features and functionality.  When combined with the free Garmin Connect service then I think that it's a real bargain.  I have found that running is starting to become addictive because I am constantly striving to beat my previous best or set new targets.
If you need some motivation to get fit and start running then I would thoroughly recommend that you buy a cheap Garmin Forerunner 110.  I've listed some links out below that will show you where you can get the a Garmin 110 best price deal online – in my experience though Amazon definitely seems to be the cheapest for Garmin Forerunner sports watches.
Garmin Forerunner 110 Best Price Comparison
Check out the best online deals below for the Garmin 110 best price or simply click here to visit Amazon Forerunner section and see the latest prices and deals.
SaveSaveSaveSave