Many readers of GPS Bites often ask us how easy it is to install Garmin map updates. The answer is that it is actually very easy to do a Garmin Map Install – and you can sometimes even do it for free depending on how long you have owned the Nuvi GPS and whether or not you have registered it with Garmin – check to see if you can get a free Garmin map update.
If you are struggling to install your Garmin Map Updates then follow our easy and quick guide which will tell you everything you need to know about downloading new Garmin maps and then installing them successfully on your Garmin Nuvi GPS sat nav device.
Where do I Get Garmin Map Updates From?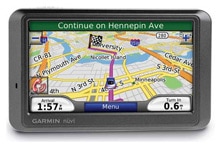 If you want to install new maps on your Nuvi then you could also try out this Garmin Map Update Discount Code – it will save you money on your map purchase from Garmin.  Having said that, you might qualify for a free Garmin Map if you have only owned the GPS for 90 days or less.  Drivers who have owned their Nuvi for longer than that will need to pay a small fee when purchasing new Garmin maps.  You can check for free Garmin map updates here.
How do I Install Garmin Maps from New?
Before you do anything you will need to install the Garmin Map Update application which is the Garmin Map install software, and have purchased new Garmin Maps.  Once successful the process is relatively straight-forward.
Connect your Garmin Nuvi to your PC using a compatible USB cable.
Run the Garmin Map Update application by double-clicking on the file you have already downloaded – should be called something like GarminMapUpdate.exe.
Select which device you want to update and then click on continue.
Accept any license agreement details that might pop-up.
If prompted enter your Garmin product key.
If it now says "Ready to Update your maps" then select your desired option but note that the install could now take quite a long time.
Select which map region you want to install.
Your installation of new Garmin maps should now start.
These seem like quite a simple set of instructions on how to update your Garmin maps and in reality it is a very easy process.  The Garmin Map Installer will lead you through the process so there should not be too many obstacles in your way.
However, if you do find yourself struggling then do not be afraid to contact Garmin Support.  Their support teams are in my experience are some of the best around and our experiences have always been consistently positive.  Below is a video that should help you:
Where do I Download Garmin Maps From?
Perhaps you've not actually even got your new Garmin Nuvi GPS map update yet.  If not then please check out the official Garmin website.  The mapping section contains all the different upgrade options available and prices start from a free update which is called the nuMaps Guarantee.
<< Click here to check for free Garmin Map Updates >>
Then there is a one-off refresh called nuMaps Onetime which typically retails for under fifty dollars.  If you want new map updates all year around then we would recommend you try there nuMaps Lifetime scheme which lets you download up to four new map updates every year for the lifetime of your Garmin Nuvi GPS.  This is the best value option in our experience and let you drive your car or truck safe in the knowledge your routes and maps are very current.