Not having the latest maps in your in-built GPS navigation system has to be one of the most frustrating issues known to the modern driver, as we depend on those directions to get from A to B. Because navigation systems run off software, and the maps are loaded onto the system itself, they will become out of date as and when new roads are built or businesses change address.
Want to know how to update the Chrysler navigation system? Then keep scrolling down…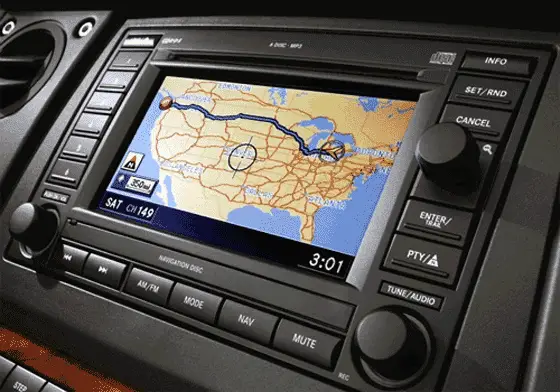 For many Chrysler drivers they will have the in-built navigation system, and when it comes to the time to update the maps it can occasionally be a little bit confusing… and technical! This is our short and handy guide on how you can update a Chrysler navigation system. Feel free to print off and save this guide, as you might need to use it every year new software map updates are released.
How to Update Chrysler Navigation GPS Maps – Instructions
Please note that these how-to directions are only for Chrysler drivers whose maps are supplied by the HERE company, formally known as Navteq. Follow the directions below to see how to get started.
OK so the first thing you are going to need is the latest Chrysler navigation DVD. Thankfully we can offer you a link to the best deals and prices on that using the link below, so click that link, order, and then wait for the disc to arrive in the post.
<< Click here for the best price on a Chrysler navigation system update >>
Once you have the new DVD disc in your possession then you will need to:
Eject the existing or old out of date Chrysler navigation disc. Depending on your model the disc tray could be in the dashboard or might even be underneath the passenger seat.
Now insert your new navigation update disc and follow the on-screen instructions. The first thing you will be asked to do is to enter in your unique customer identification code which will be on the DVD packaging.
The map updates should now start to automatically install and in most cases won't take any longer than 30 minutes.
Important Note: Don't switch off the system whilst the map updates are installing as this could potentially ruin the software install! If this happens we recommend that you go and talk to an official Chrysler dealer to help you out.
If you feel that these instructions are out of date and don't suit your model then please do contact us as we would love to hear from you. We are committed to only ever presenting the best information possible, so try to ensure that our website is up to date. If you are looking to purchase the new disc then you can find out more here.
The models of Chrysler navigation system that this how-to guide and instructions will work on should include:
Chrysler 200
200 Convertible
300c Models
Aspen
PT Cruiser
Pacifica
Sebring
Town and Country
SaveSave