Garmin Connect is a fantastic online tool for users of the Garmin range of cycling GPS products.  I personally am not a frequent cyclist, and don't even take my cycling seriously, however I do love the functionality that lets me and my girlfriend go for a recreational bike ride and then upload it to Garmin Connect – this means over time I can measure how many miles I've done and use the in-built player to replay the cycle ride on Bing maps.  If you own a Garmin Edge cycling GPS and don't know how to use Garmin Connect then read on and I will give you an overview of how it all works.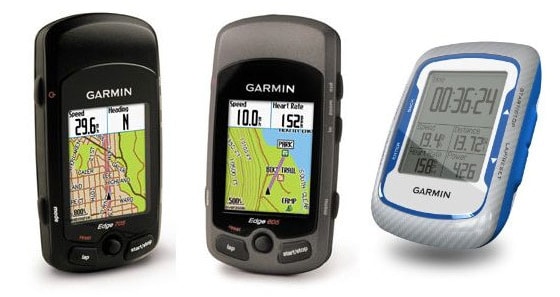 First things first, if you don't own a Garmin Edge cycling GPS then you won't be able to use Garmin Connect.  However, the Edge products are all available to buy direct from Garmin or from websites such as Amazon.  I am going to assume you already own one of these cycling GPS devices already and won't go into too much detail on them, but I personally use a Garmin Edge 705 and my girlfriend uses an Edge 500. I will base my guides on using Garmin Connect as Edge 705 software, but the guide will work with all the Edge Cycling GPS devices.
Connecting Your Edge GPS to Garmin Connect
When you buy an Edge 705 it will come with a compatible USB cable.  Simply plug this into the Edge and to your PC.  If you have already signed-up with Garmin Connect then simply visit http://connect.garmin.com and login – if not you will need to register for an account – but this is free and should take no longer than five minutes to do.
Uploading Your Cycling Ride Data to Garmin Connect
Once registered and logged in, click on the "Upload" tab which appears on the right hand side corner of the navigation bar.  Garmin Connect will then automatically search for any Garmin GPS products you have connected via USB and display the results on this page.  You will have to click on the link that states "Upload All New Activities".
If you have completed a cycle on your Garmin Edge then it will upload that data on the next page, listing the most recent uploads.  Your cycling data is now online so you can now view it, rename it, play it back, and start to measure all your historical cycling data.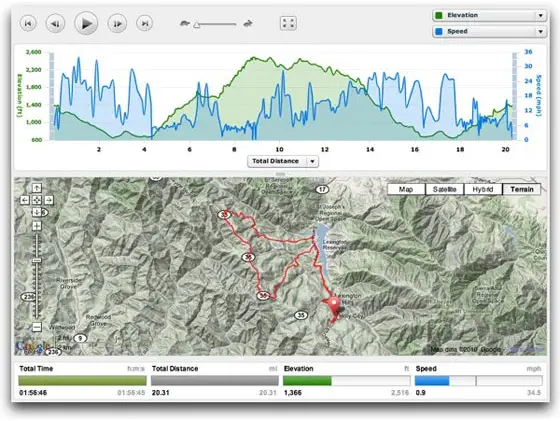 This is the part I love and I am going to show you why – and rather than show you examples from one of my rides, I am going to use data from the Team Garmin Tour de France team – just so you don't see how rubbish and slow I am at cycling!
Viewing Cycling Data in Garmin Connect
Below is a recent Tour De France stage by one of the Garmin-sponsored cyclists.  As you can see you can even embed Garmin Connect data onto other websites such as blogs and news websites – and even share on Facebook and other social networks.
If you click on the "View Details" button on Christian Vande Velde's ride it will open Garmin Connect in a new window which is where all the clever stuff happens.  The part I reckon you will enjoy the most, especially if you are a recreational cyclist like me is the "Player" option.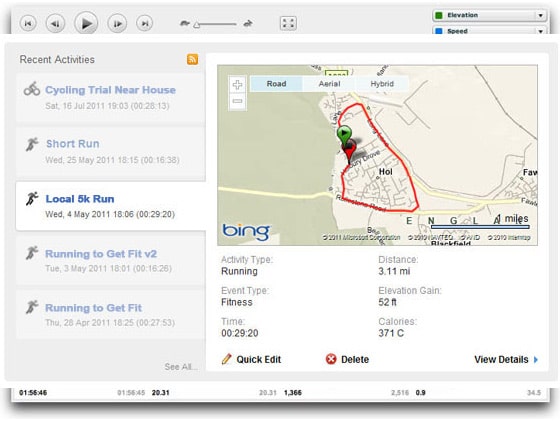 This opens up your ride into a wide-screen Bing maps view, and if you click on the Aerial tab on the Bing map and then click the Play button you can relive the ride and zoom into the geography in detail.
You will see your ride mapped out in a red line which has been traced by the GPS co-ordinates being tracked into the Garmin Edge 705 or Edge 500 as you are cycling.  It shows how far, fast, elevation, and calories you have got through when cycling – so for recreational riders its good because if you really enjoyed your cycle with the Garmin Edge 705 or 500 then you can log back into Garmin Connect and choose to go do that one again.
Set Fitness Targets with Garmin Connect
Plus if like me then you want to get fitter and are thinking about an exercise regime then Garmin Connect is good for setting targets.  Under the myConnect tab there's a "Calendar" link – select that and it shows all the rides you have done including mileage and kilometre totals.
A few links across the navigation bar is the "Goals" link – this is where you can set a fitness goal.  I recently decided I wanted to try and cycle 50 miles in one week – and although I didn't quite make it was fun trying.
To set your own cycling mileage goal in Garmin Connect you need to click on "Create New Goal", give it a name, the type of activity – for example cycling, downhill biking, mountain biking, or even stationary exercise bikes – then select the goal type, which could be time-based or distance.  Finally tell Garmin Connect how long you want to set yourself to achieve this challenge.  So mine was to do 50 miles in 7 days.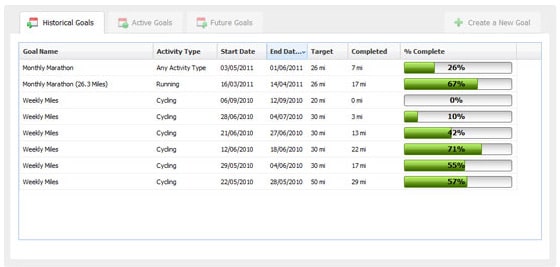 As you upload your Garmin Edge GPS data over the 7 days, the Garmin Connect website will keep you informed of how you are tracking against your goal and challenge with a progress bar.  So as you can see it's a great way of motivating yourself to keep to fitness targets.
Conclusion on Garmin Connect
If you own a Garmin Edge GPS cycling product then you really do need to use Garmin Connect to truly get the most from the device – plus it will help to motivate you to get fit and can lead to so much more fun.  I've lost count of the amount of cycle I've done with my girlfriend and then gone back into Garmin Connect months later, replayed it, and then decided we were going to get back out on our bikes and go try it out again.
Video on Using the Edge 705 and Garmin Connect
Admittedly I am purely someone who cycles for recreation and only uses Garmin Connect for its most simple functions – but have started to use it more recently to set myself fitness targets whilst tracking data like calories, weight, distance and speed – so if you are someone who really takes your cycling seriously then Garmin Connect is an invaluable tool for you.
Save
Save