This week on GPS Bites we have an exclusive interview with Dr. Bruce Krulwich of Grizzly Analytics.  Dr.  Krulwich has previously worked for Accenture Labs and Samsung and is a mobile industry analyst and strategist.  He has just released a report on indoor location positioning and how the emerging technologies are going to potentially revolutionize consumer smartphone usage with the addition of GPS-style mapping, navigation and lots of services. Thankfully he managed to find a little time in his schedule to talk to us about the future of smartphones and how they are going to be able to run location services indoors.  If you didn't think GPS indoors was possible, then read on.  The game is changing.
1.  Hi Bruce, thanks for agreeing to the interview today.  For those that might not know, could you give us a brief explanation as to what Indoor Location Positioning is?
Indoor location positioning is, to put it simply, taking GPS indoors.  Right now GPS systems on smartphones, and GPS devices in cars, stop working when you go indoors, whether you're carrying your phone into the mall or driving your car into underground parking. Indoor location positioning gives your phone or other device a way to know where you are when you're indoors.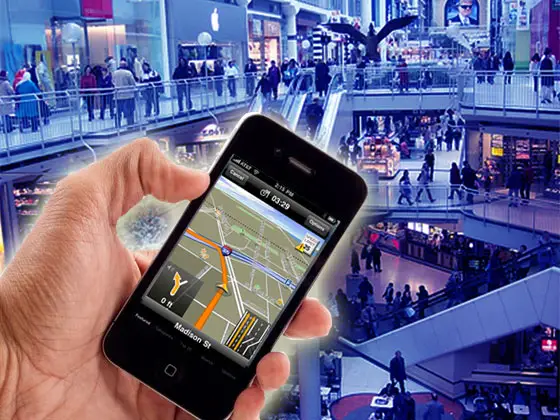 2. Without giving too much away, as the bulk of the detail is in your new report, could you give us some brief pointers as to what your top-line predictions for indoor GPS and positioning are for the next couple of years?
In a nutshell, smartphones will be increasingly able to run location services indoors.  This will include general apps like Google Maps and Bing Maps, but also things like Facebook and FourSquare checking-in to the particular coffee shop you're sitting in, and GroupOn offering you deals for the store you're walking by when you're in a mall.  It will also include stores releasing their own apps that let you find products on the shelves, navigate to items on your shopping list, and get coupons for things you're walking by.
And it's not just stores and malls.  It's also getting information about paintings when you're walking through a museum, finding your way in hospitals, finding your friends in a crowded casino or exhibition, and lots more.
The big change in the past 6 months is the number of companies developing new technologies for indoor positioning.  It's not just looking at the cellular antennas you're near, now it's seeing which Wi-Fi hotspots you're near, and it's using the gyroscopes and compasses in your phone to track which way you're moving. So even without cell signals or Wi-Fi hotspots, the new technologies can estimate where you are.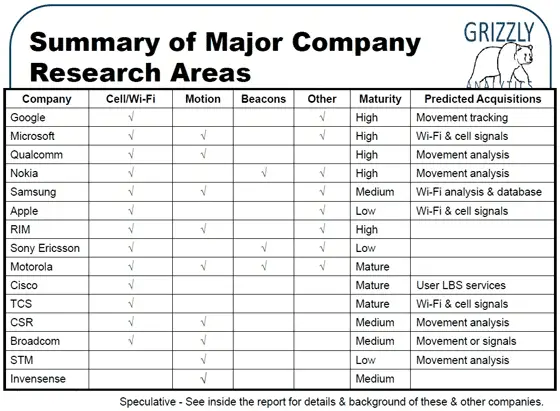 3. What will be the most widely adopted services that you see the mobile companies offering as a result of the improvements to indoor positioning (or indoor GPS)?
The most popular will be maps and navigation. People have gotten used to finding things on their phones, and why shouldn't this work in the mall as well as it does on the street?
Deals and promotions will also be big.  People already like GroupOn, but imagine if a GroupOn-like service could send you deals as you walk through the mall, for stores that you might otherwise pass by?
4. And what about non-commercial opportunities for Indoor Location Positioning?
I think friend-finding will be big. Friend-finding outdoors is not really that useful, and hasn't taken off yet, but if it works in the mall or in a big office or in a theater, it'll be something that people will really want to use.
5. Do you see any opportunities for the traditional GPS companies such as Garmin and TomTom to gain a slice of the market share with the new applications and services being adopted?
Sure.  The GPS companies can use indoor location technology to enable their devices to work inside underground parking or tunnels.  And they can work together with cellphones too, for example to enable people to find their cars.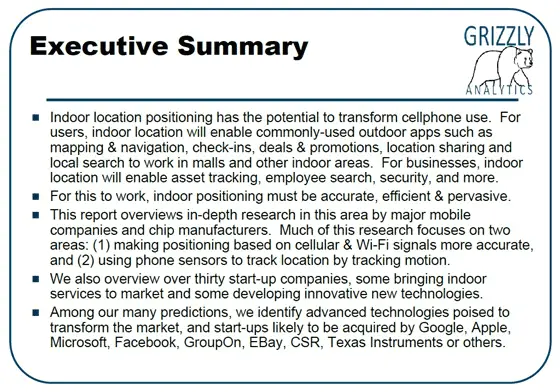 More About Dr. Bruce Krulwich
If you are interested in the future of indoor GPS and location positioning then please make sure you visit Bruce's website Grizzly Analytics.  Bruce has just published a fully-revised and comprehensive 163 page report Indoor Location Positioning: Research Pipelines, Start-ups and Predictions.  You can see sample report pages on his website and choose to download the report for a one-time fee.  You can also find out more about Bruce on the Grizzly Analytics website.