Navteq, the Nokia-owned company that supply digital mapping to the major GPS manufacturers, have recently conducted a study to reveal that Brazilian drivers spend on average 40 additional minutes in traffic jams every day.  The problem is expected to get even worse over the coming years due to the World Cup event that is due in 2014 – and this is despite the fact that the Rio De Janeiro housing authority have been evicting families from houses in order to make new roads (source: CNS News).
Traffic in Brazil Survey Results
The Navteq and Nokia survey was called "Traffic in Brazil" and was their attempt to get a better understanding o Brazilian traffic conditions, driving habits, and other traffic-related issues and how they impact the daily driving routines of the average driver in the country.  It surveyed two hundred people and also tried to find out what they typical use of GPS and navigation devices was like (and in fact discovered that a third of drivers do actually use GPS with traffic alerts).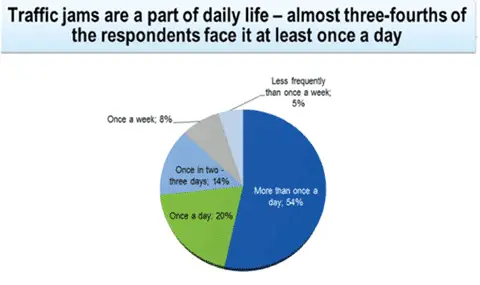 Traffic Jams Have a Negative Effect on Half of Drivers
As you can see from the graph below, just over 50% of the drivers surveyed believed that traffic was affecting their daily life negatively as they were getting stuck in a jam at least once a day.  The drivers believe that the 2014 Soccer World Cup is going to make the situation even worse as there are going to be hundreds of thousands of tourists in the country by the time the tournament comes around.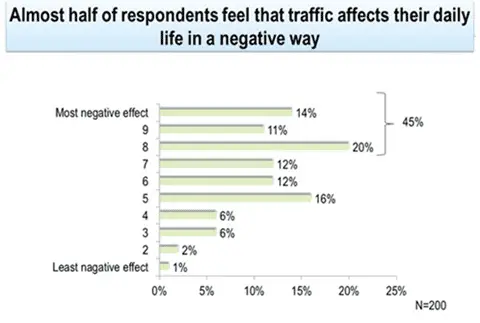 The Latin American Sales Director for Nokia, Helder de Azevedo was quoted as saying:
"Traffic jams are a part of the daily routine of city-dwelling Brazilians, as are navigation devices, whose use has been growing rapidly in Brazil.   "The data from this study strongly underlines the value we bring to consumers on a daily basis. When they are equipped with good quality maps, these devices not only help drivers avoid traffic jams, but also let them opt for alternative itineraries that can save time as well as helping to reduce stress and fuel costs."
Brazilian Drivers Now Spend 40 Minutes More Driving
The Navteq research went on to show that over the last few years Brazilian drivers have been spending 40 more minutes each day stuck in traffic congestion and 69% believe that it is going to get even worse after the World Cup in 2016 – believing that the increased car ownership numbers for Brazil.  Currently there are 249 cars per 1000 people in Brazil (source: Wikipedia) with those numbers predicted to increase by 10 to 20% over four years.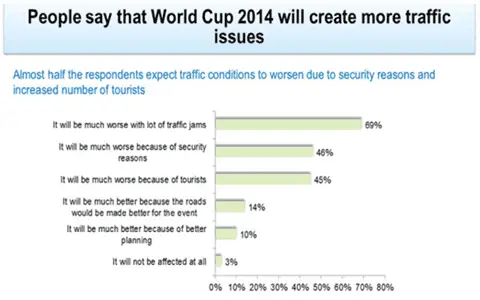 Why Did Navteq and Nokia Do This Survey?
With so many Brazilian drivers believing traffic to have a hugely negative effect on their lives it has given Navteq and Nokia some superb data and press coverage.  They can now use this information in order to publicize the fact that drivers should update their GPS maps as much as possible – and it also lends further credence to the fact that drivers should use a GPS that comes with Real-Time Traffic Alerts.
A Navteq Study conducted in Germany back 2009 revealed that drivers who use an up to date GPS device with the latest maps and directions on can save themselves four hours of driving time behind the wheel each year.  In addition to that they discovered that it was possible to save on fuel bills and reduce the amount of CO2 emissions released.
So of course, it's in Navteq and Nokia's best interests to make sure that GPS owners buy the latest maps, because it's their company that sell the data to the GPS manufacturers.  If you want to update the maps on your GPS then read our guides on how to do that in our GPS Bites Map Updates sections (also includes links to where you can get the best deals and cheapest prices on new maps).
SaveSave