Garmin is one of the industry leaders in car GPS navigation and has recently updated their successful Nuvi line of sat navs.
The new Garmin Drive GPS navigators are easy-to-use and feature preloaded maps and innovative driver alerts such as Forward Collision and Lane Departure Warnings, plus alerts for upcoming speed changes, dangerous curves and more.
Other options include smart notifications, Bluetooth hands-free calling, voice-activated navigation, camera-aided Garage Park Assist and "Go" alerts when you're stopped and traffic in front of you starts moving. Garmin Real Vision feature switches to camera view when approaching select destinations. Foursquare data provides millions of points of interest to help you discover new and popular restaurants, shops, services and other destinations.
Garmin Drive GPS Product Lineup
The Garmin Drive GPS range has 3 different versions to choose from  – Garmin Drive (entry-level), DriveSmart (smartphone notifications, Bluetooth, Traffic) DriveAssist (built-in dash cam, advanced warnings) and DriveLuxe (metallic case and magnetic powered mount). Which version you decide to buy is really down to what type of driving you do.
For example, the Garmin DriveSmart is ideal for business driving with it's connected features and traffic – you won't be late for your next meeting. DriveAssist is more suited to the safety conscious while DriveLuxe is targeted towards the higher-end of the consumer market.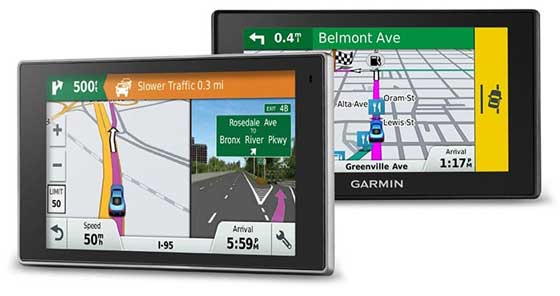 Free Garmin Drive Lifetime Map Updates
All Garmin Drive models come preloaded with free lifetime map updates for US/North America/Europe (depending on which version you buy) so you can be reassured that you'll have the latest maps on your next journey. There's also a range of touchscreen displays – choose from 4.3, 5, 6 or 7inch screens.
Garmin Drive GPS Key Features:
Bright 4,3-, 5-, 6- or 7-inch pinch-to-zoom touchscreen displays
Easy-to-use, dedicated GPS navigators
Driver awareness features include alerts for dangerous curves, speed changes, wrong way on a one-way, railroad crossings, approaching traffic jam, animal crossings and more
Fatigue warning suggests break times and potential rest areas ahead after hours of driving
Preloaded with detailed maps, plus lifetime maps and traffic (Traffic LIVE via SmartphoneLink or Digital Traffic on select models)
Built-in dash cam to continuously record your drive and save files on impact; GPS records where and when events occurred (Garmin DriveAssist model only)
Camera-assisted features like Forward Collision Warning, Lane Departure Warning, Garage Park Assist and Go Alerts (Garmin DriveAssist model only)
Voice-activated navigation lets you control functions with your voice while your hands stay on the wheel
Bluetooth technology allows for hands-free calling
Customizable smartphone notifications let you display calls, texts and other app alerts on your navigation screen
Real-time services, such as live weather radar and traffic, are available with the Smartphone Link1 app
Garmin Real Directions™ feature guides like a friend, using recognizable landmarks, buildings and traffic lights
See places up ahead and milestones along your route without leaving the map
Provides alerts when approaching red light cameras and speed cameras
Foursquare data adds millions more new and popular places
Direct Access simplifies navigating to select complex destinations, like malls and airports
Junction views and lane guidance help you navigate complex interchanges
Compatible with Garmin BC 30 Wireless Backup Camera and Garmin babyCam (sold separately)
Read an independent review of the new Garmin Drive GPS to learn more.