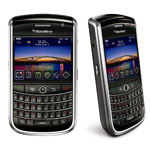 TomTom and RIM (Research in Motion), the company that own Blackberry, this week announced that they would be going into partnership.  The agreement will mean that Blackberry apps that will now be able to take advantage of TomTom's Real-Time Traffic services.  Martyn Mallick, the VP of Global Alliances for RIM stated that he was thrilled to be working with TomTom as their traffic and travel content could now be leveraged to be used with Blackberry Traffic and Blackberry Maps.
What this means is that some of the BlackBerry applications can now be powered by TomTom, and the RIM developers including third party companies will be able to take advantage of the partnership in order to develop new and advanced travel apps for the handheld mobile device.
It is not yet known which of the Blackberry handsets will get the new TomTom Traffic Services, but when it does arrive for real the HD Traffic capability will use the GSM modem of other users to help track cars and then triangulate the position of the driver – letting them hopefully avoid any traffic jams and congestion with an alternative route.  According to TomTom, under ideal conditions this service updates five times more than if you were not using a GSM modem which relies on GPS alone.
Nuno Campos who is the VP for Sales and Marketing at TomTom was quoted as saying:
"We are enabling the future of mobile travel with powerful location content and real-time information, including HD Traffic.  TomTom's market-leading real-time traffic information will provide BlackBerry customers with the best mobile travel experience."
It's interesting to see these partnerships now appearing between the major GPS manufacturers and the mobile handset companies.  With the proliferation of navigation coming onto mobile in recent years there has been a real challenge to the GPS companies – they need to adapt and diversify in order to keep their major market share, so we are sure that they are going to be more collaborations of this type in the future.
SaveSave