Are you an outdoor enthusiast with a passion for trail running and alpine sports? Introducing the new Garmin Fenix 3 GPS sport watch, perfect for demanding athletes.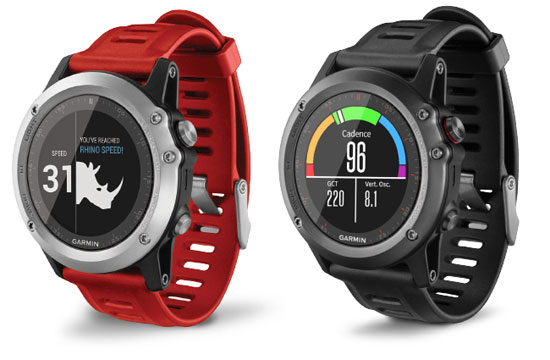 Fenix 3 is powered by advanced GPS/GLONASS positioning via the new steel EXO™ antenna. It comes packed with multi-sport training functions, new trail running features and extensive navigation. The watch comes with athletic, rugged design and a high quality build and it is also smart: Fenix 3 supports LiveTrack, Smart Notifications and Connect IQ Apps where you can customize your watch face and with new screen styles and outdoor/sport apps.
The Fenix 3 is stylish yet rugged and can easily be worn as a day to day to watch with your normal clothes. It's construction and design is high-end and comes with a stainless steel bezel and scratch resistant glass lens. Getting a GPS fix is now even faster with GPS+GLONASS for higher accuracy in a demanding environment. Fenix 3 wirelessly connects and syncs to Garmin Connect the free online training application where you can view your activities and monitor you fitness progress. Fenix 3 also features daily activity tracking which is similar to modern fitness bands such as the Garmin Vivofit, Vivosmart and Vivoactive. You can count your steps, distance and calories burned during the day.
If you are a keen runner you'll be able to make use of running features found in the garmin Forerunner running watch series. When paired with a Garmin heart rate monitor (HRM-Run) the Fenix 3 will capture data such as cadence (steps per minute), vertical oscillation (degree of bounce) and ground contact time, most of these features are found in the advanced Forerunner 620. 
When you're hiking and exploring the great outdoors, Fenix 3 will give you quality navigation and clear guidance on the map page so you can always find your way back thanks to TracBack navigation. Triathletes will enjoy the multisport mode which includes VO2 Max (fitness level), Running Dynamics and the ability to pair with a power meter reading for cycling. Garmin Fenix 3 can also be used for swimming in both pool and open water training as it detects stroke type and SWOLF score. 
Read this independent Garmin Fenix 3 GPS outdoor sport watch review and learn more about the latest wearable technology and how it can help improve your fitness levels as well navigate and guide you in the great outdoors.