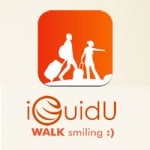 This week's interview on GPS Bites is with Gergely Berta who is one of the team responsible for the excellent iGuidu iPhone app.  The app uses the GPS and location modes available within the iPhone to help users find tourist attractions and then have audio guides and images of the places they are visiting.  The iGuidu application is  the only GPS-based audio tour guides to be found on the iPhone and gives audio tours of interesting tourist sights from all over the world!  The navigation uses the built-in iPhone GPS and the app itself includes over half a millions points of interest.
1. Hi Gergely, for those not familiar with your iGuidu GPS-based audio tour guide iPhone app could you please give us a brief overview of the app and why people should buy it?
The basic idea of iGuidU is to enable travelers to explore and experience on their own terms – without guided tours and such. We also found that forcing the limited scope of city/country guides established in the guide book industry doesn't make any sense for an app. That's why we created iGuidU, which is a comprehensive travel app which features over 500.000+ points of interest (POI) all over the world.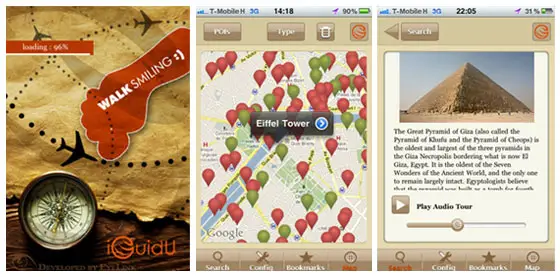 In order to make it easy to use, we've also implemented a built-in map with GPS-location function, to display whatever sights are nearest to the user at any given moment. Another convenient feature is the advanced text-to-speech engine which makes it possible to listen to all content! This way, you can take a stroll in the city of your choice, take in the atmosphere, and listen to what you're seeing simultaneously.
2. How long it take you to create the app and what were the biggest challenges you faced when developing it?
The development took a bit longer than a year. The initial problem was finding a way to allow users to listen to our POI texts. Initially this was to be done via streaming audio files from a server, but due to roaming costs this was soon scrapped. We then found a suitable TTS engine which suited our needs.
3. What's in store for the iGuidu app in the future?  Is there going to be any more functionality of features added that you could share with our readers?
We're considering porting the application to Android, as well as adding advanced filtering issues. Another possible path is regarding is about user-created POI's: users can create their own points of interest within the app, complete with GPS location, notes, and pictures. We're looking for ways to allow users to submit these to our POI database directly from their iOS devices.
4. Forbes recently ran an article on iGuidu where the company was named as a hot start-up in the emerging technology markets.  How has this publicity helped you with download sales and your marketing?
The Forbes article has resulted in B2B interest towards our app: several travel providers have expressed interest in developing branded applications along the lines of iGuidU. We're open to this kind of partnership, so it was obviously a welcome development for us to be featured in Forbes!
5. Do you have any plans to create any more GPS applications for the iPhone and smartphone platforms?
We have some ideas, but I feel it might be too early to share them as of yet.
Want to Know More About the iGuidu App?
If you would like to know more about this iPhone GPS app that helps you navigate tourist attractions and desinations whilst on your vacations then please visit the iGuidu Website.  You can also download and purchase this Audio Tour Guide iPhone App from the iTunes store using the banner below.