When we think of GPS tracking devices, we don't usually tend to think of them as being fashionable items.  However, that's all set to change with the PFO GPS bracelet designed by Oscar Magnuson in Sweden.  The PFO bracelet is a GPS tracker with an SMS alarm inside, that is designed to be comfortable and also look good.
The new PFO One bracelet comes in five different colors and is made from steel and rubber coated plastic.  It is waterproof and shock resistant and works quite simply – when the wearer pulls on the bracelet it will trigger an SMS alarm that can get sent to pre-defined mobile numbers.  The numbers can either include your friends and family or even the G4S security company.
Comes in 4 Different Colors

Oscar Magnuson, the designer of the new GPS tracking bracelet from PFO says that:
"PFO represents an entirely new category of accessories, containing high tech alarm functions and GPS. The bracelet is created and designed with the utmost passion in achieving the perfect balance between the function and form. PFO One radiates strength and determination, and at the same time gives the wearer confidence."
How the PFO GPS Bracelet Works
The bracelet is designed to keep women safe and will work anywhere in the world where your cell or mobile phone works.  You will need a subscription plan with the company in order for the bracelet to be functional, and in case of emergency you simply pull the bracelet and it sends an SMS to your pre-determined phone numbers.  The SMS message includes details on your location so that help can arrive.  Check the cartoon below which puts things into more simple terms.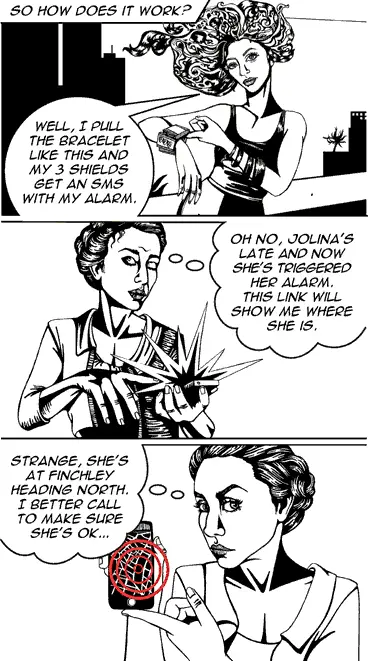 More Information on the GPS Bracelet
For more information on the new GPS tracking bracelet from PFO please visit their website on www.pfoinc.com.