The overall decline in PND sales means that GPS manufacturers need to strengthen their relationships with car manufacturers in order to win the battle to get their devices and technology built-in to new cars.  We recently published an article on GPS Bites that referred to a survey that said the majority of car drivers would rather purchase a car with in-dashboard navigation already installed – and that ties in very nicely to the new today that TomTom have won the contract to supply in-dashboard GPS to the new line of Fiat 500L models.
TomTom GPS Dashboard Navigation
The new Fiat cars will have a TomTom GO Live unit built-in to the dash which will be connected to real-time services enabling a much more efficient drive.  These connected TomTom GPS devices come with HD Traffic meaning the drivers gets alerted on the fly about any traffic jams or snarl-ups that are on the road ahead.  In addition to that these units will be compatible with social media applications.  This will let the driver access a multitude of content including reviews of restaurants, accommodation, and even the ability to tweet their location and status via Twitter.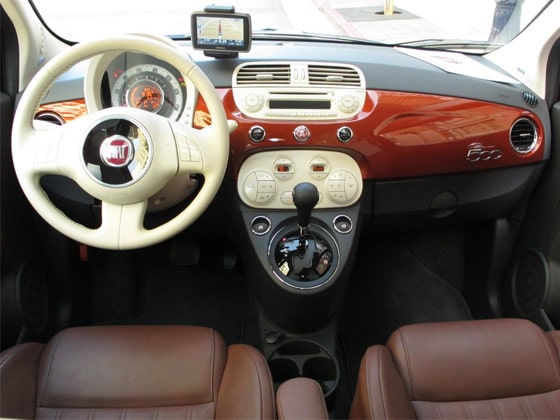 Charles Cautley, the MD of TomTom automotive was quoted as saying:
"An increasing number of drivers recognize the benefits of connected navigation; TomTom HD Traffic provides a dynamic navigation experience which has become essential for OEMs to meet the demands of their drivers.  By extending our partnership, Fiat is now able to offer this navigation experience to an even broader range of drivers."
Features of the Fiat Installed TomTom GO Live GPS
Some of the more advanced features of this TomTom Go Live model that will be installed into the Fiat 500Ls include:
TomTom HD Traffic – Give the driver the choice of the most efficient and quickest routes through traffic on road, plus includes expanded coverage and updates.
Search & Go – Connected integration online applications such as Expedia, Trip Advisor and Twitter so the Fiat driver can access online reviews of tourist destinations and attractions and also navigate to locations easier.
TomTom Speed Camera Alerts – Real time alerts tell the drivers about any fixed and mobile speed cameras that are on the roads so that they can driver safer and avoid speeding fines.
Buy Cheap TomTom GPS Units
If you would like to see the full range of TomTom GPS devices that are available in a standalone format then please visit the Amazon website who are currently running many different price promotions and offers.  Click here for cheap TomTom GPS devices.