We've all been there, the scenario of sitting at home calling a company and waiting for an update on an arrival from a service person.  Whether it's your new internet connection or a plumber coming to fix up your new dishwasher the outcome is usually the same: "Hey I'm sorry we don't know exactly when the service person will arrive".  Needless to say, this statement can be very frustrating and you always end up having to wait for a time when quite honestly have  hundreds more  better things to do.  In addition to this, the fact that you're waiting without any feedback about arrival time and this all adds up into being an extremely frustrating scenario.
Now let's flip the situation around. As a business person you must know what happens to your very own frustrated customers. They can end up leaving you, they can spread unhappy stories on the web and by word of mouth, and they attack your business on the social media networks.  Companies can simply no longer leave customers in the dark in these situations.
However, there is one approach that can help, and that's GPS fleet tracking which is one solution that has become big business since the advent of satellite navigation and GPS-based tracking solutions.
What is GPS Fleet Tracking?
GPS fleet tracking equipment does exactly what it says on the tin. It tracks the movement of your fleets and vehicles, and the system works by monitoring the position, speed and area covered of any and all vehicles in your fleet.  Typically a provider of GPS fleet tracking solutions will give you an online tool to track your fleet, giving you easy access to all the data via a management console.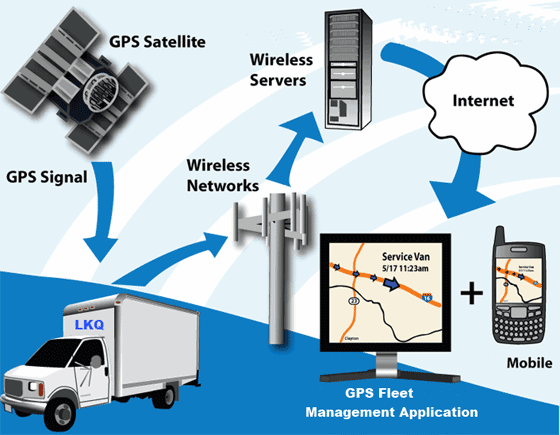 What are the Benefits to GPS Fleet Tracking?
Theft: First and foremost a tracking device makes it very difficult for a thief to sell your vehicles or use one as a getaway car. In this sense some fleet managers print the tracking capability on the vehicle to warn off would be thieves.
Speeding: Good tracking equipment allows you to see if your staff are speeding or driving recklessly. This can help you avoid driver disqualifications which may have arose if a speeding problem was to go unchecked.
Route Efficiency: Tracking equipment can also use more advanced information to judge the most fuel/time efficient route to a specific location. This can save fuel or time or even both for you and your business.
Location-Based GPS Tracking: As noted in the introduction customers find It very frustrating when they are left in the dark in relation to when they can expect a house call. Location tracking can tell you and customer when the estimated arrival should be. This takes the guesswork out of scheduling.
What Providers or Industries Can Use It?
Almost every industry can use GPS fleet tracking. Every company from the small firm with a few sales staff to the large courier firm can benefit from more accurate information on vehicles, drivers and how efficiencies can be found. Whilst it's true that the returns can be higher the more intensive the use of the vehicles small fleets will still need to save where they can.
Everyone can benefit from fleet tracking. The benefits are not limited to cost savings as they can offer peace of mind to drivers who are permanently trying to convince management of complexities of life on the road. A well-managed system can bring drivers and fleet managers closer together and most importantly it can make planning far more realistic.
About the Author: This post was provided by FleetCare.  They are Australia's largest independent fleet management, fleet tracking and auto leasing company. Please note that FleetCare are not tied up to any one financial provider meaning they'll shop around for the best deal to suit you and your company.  Please visit their website for more information about them and their services.