Now the hype has started to die down a little bit with the unveiling of the new iPhone 5, we thought it was a good time to delve a little bit deeper into some of the navigation functionality on offer with the new smartphone from Apple and see how this could potentially impact on the more traditional GPS manufacturers such as Garmin.
The new Apple operating system used in iPhone 5 is called iOS6 and will include Apple Maps.  Apple Maps will now include 3D mapping of buildings – something which was previously a USP for some of the traditional GPS companies.  Apple says that the new maps on iPhone 5 will offer turn-by-turn directions and interactive 3D views.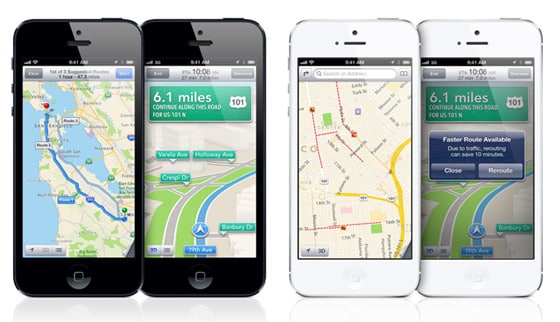 Apple Maps Include Advanced GPS Features
The new maps on the iPhone will also be better presented than before with crisp and clear vector based graphics.  This will let the user have smoother panning and scrolling through the map via the touch screen.  Other functionality included, which has previously been the sole preserve of Garmin and traditional manufacturer units includes spoken directions and real-time traffic information which will show any major traffic jams and incidents that are on the way – giving the user the choice of taking an alternative route to their destination.
As you can see, these functions in Apple Maps seem to directly compete with the features that were setting traditional portable GPS navigators apart from smartphone devices.  Scott Forstall, the Senior Vice President in the Apple iOS division said that the new Apple Maps are a "new mapping solution built from the ground up" and the new set of features certainly seem to back that statement up.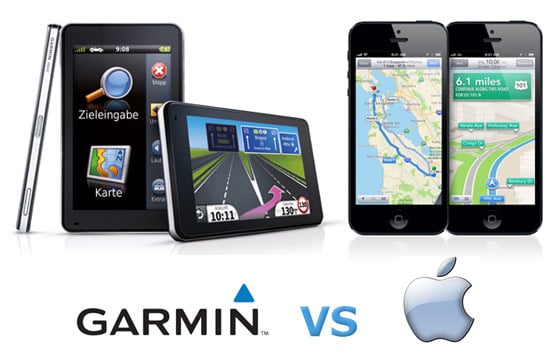 Garmin Can Diversify in Other GPS Markets
Does this present a threat to Garmin?  Personally, as far as portable in-car navigation goes then of course it does.  However, the threat is certainly a more real one for other traditional automotive GPS manufacturers.  Garmin are in the preferential position of having a wider product portfolio including aviation, marine, sports and fitness – all of which give it the flexibility to continue as a major player in the GPS industry.  Other companies do not have that luxury so I expect to see Garmin flourish in the next 3 years, albeit with a more concentrated effort into their other sectors as well as the in-dashboard and OEM markets with automotive brand partnerships.
Heavy Movement on Garmin Share Selling
Interestingly a lot of Garmin stock has been sold recently and the Insider Monkey website posed the question "why are insiders selling Garmin" and stated that:
"Although the company has managed to beat expectations of late, Garmin has seen continued volume decline, namely due to pressures from mobile devices. The volume decline will likely continue as phones with native navigation programs become standard, as well as, the standardization of built-in GPS systems in vehicles."
Whether this high profile share selling and a predicted down turn in sales volumes are linked in any way is open to interpretation.  Are the two things related?  Only time will tell.
Further Reading: You might also be interested in our recent interview with Mike Dobson from TeleMapics on the challenges facing TomTom and Garmin.