The Indian Space Research Organization (or ISRO) announced this week that India is very close to launching their very own Global Positioning System (GPS) by the end of the year.  The scientists at ISRO are hoping this will mean that the country no longer needs to rely on the US-owned existing GPS already in orbit.
The new GPS is to be called the Indian Regional Navigation Satellite System (IRNSS) and will be made up of seven satellites stationed 36,000 kilometers above the Earth.  It will be completely controlled by the Indian government, and independent of any other country's jurisdiction.
At the moment it is only the United States and Russia that have fully-operational and orbiting satellite-based navigation systems, although China may soon be joining them, having launched two satellites of their own recently.  India have so far spent in excess of $300 Million US Dollars developing IRNSS and have justified this expense with the fact that the US GPS system is not always guaranteed.
For example, in war time the US Government could reduce commercial access to the system – but there should be no worries on that front with the Indian version as they plan to have two services: one for civilian use and one for military.  See below for an illustration of the architecture that will go into making up the Indian Regional Navigation Satellite System (taken from one of their official presentations).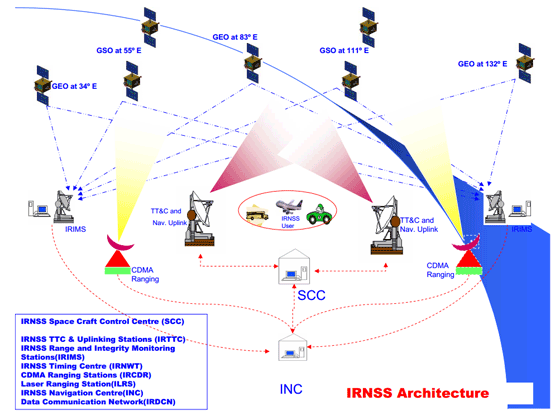 The Indian GPS system is planned to provide infrastructure for generating data on position, plus also navigation and timing technology. Early reports state that the data generated will also be used for wider-ranging applications – for example civil aviation, fisheries, and agriculture.  The new IRNSS services are going to be available 24 hours a do all year round, irrespective of whether other constellations are available over the Indian airspace.
Please note that we also recently published news on how Garmin are entering the Indian GPS market with a new range of affordable Nuvi devices designed for the Indian market.